Ross County 2-2 Kilmarnock: No dive from Boyd, insists Clarke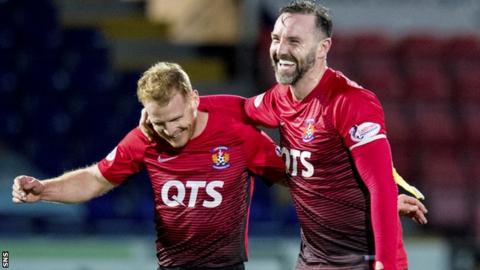 Steve Clarke insisted Kris Boyd did not dive moments before he scored Kilmarnock's equaliser in the 2-2 draw with Ross County.
Boyd, who had earlier been booked, went down in the County box and referee Andrew Dallas awarded a free-kick to the hosts.
The striker avoided a second yellow card and resultant dismissal seconds before heading his side level.
"I don't think it was for a dive," Clarke said of the free-kick.
"It was a forward and a defender tussling in the box, they both fell over and the referee chose not to give us the penalty but to give Ross County a free-kick.
"Who said it was for diving? I would've thought if the referee thought it was for diving, he would've produced a yellow card.
"I think he gave it for a foul against Kris for pulling the defender down. I wouldn't know because I'm not the referee."
Clarke was pleased with Killie's second-half recovery, having watched them trail 2-0 at the break through Christopher Routis and Jason Naismith's goals for the hosts.
Clarke also had to contend with the loss of defenders Gordon Greer and Stuart Findlay in the opening period, Scott Boyd and Greg Taylor coming on.
Eamonn Brophy halved the deficit before Boyd's late header.
"Second half, we were by far the better team," Clarke told BBC Scotland. "Disappointed with the first half.
"We conceded two terrible goals from set plays and it made it a more difficult night than maybe it should've been.
"Obviously, losing the two defenders as well disrupted us and we lost concentration a little round about that time, which maybe influenced the fact that we didn't defend set plays because by and large this year we've defended set plays really well.
"Gordon had felt something in the warm-up. Hopefully, it's not too serious but he had to come off. Stuart Findlay fell over, gave himself a knock. To lose two defenders at that stage of the game was obviously disappointing and to lose two big defenders against a team that are good at set plays.
"You know if you get the ball in the box in and around Kris, you'll always have a chance of scoring and thankfully it turned out that he got the equaliser for us. He's been terrific for me.
"Young Eamonn's on a good vein of form, tired a little bit towards the end but you see with his quality, his strike, he can score left foot, right foot and when you've got goalscorers that are scoring you've always got a chance.
"We'll take the point. We're on a good little run."
Ross County manager Owen Coyle said of the Boyd free-kick incident: "I didn't have a clear view of that.
"I'm only thinking that Boyd's very good at pinning people in the box and pulling them round. I can only imagine that maybe he's used his body but I'm guessing at that."
And Coyle was frustrated his team could not hold on to their lead.
"When all's said and done, we should've won the game and we've gifted an opportunity for Kilmarnock get back in it," he added. "They'll leave with obviously a great point for them. For us, it's two points dropped.
"We feel as though, certainly, we were in a great position to win all three points, which would've catapulted you up the league because that's what this league can do. It's certainly an opportunity that we've let pass by.
"We'd earned the right to be in front in the game. Some of our football was outstanding in the first half so there's certainly lessons to be learned from that and that's what we have to do and learn them quickly.
"There was a lot of pleasing aspects. I don't want that to be lost. First half - if we can replicate that for the duration of a full match we'll be a very, very good team there's no doubt about that."