Finding Chris Coleman successor Wales' toughest choice, says Kevin Radcliffe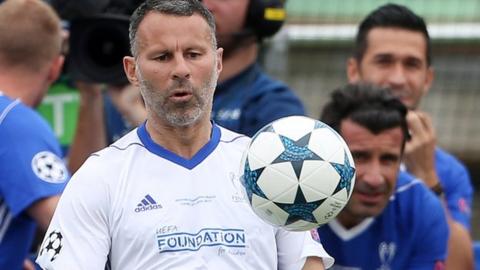 Kevin Ratcliffe believes appointing Chris Coleman's successor as manager is the hardest decision the Football Association of Wales has ever faced.
Ryan Giggs is favourite and ex-Wales captain Ratcliffe believes he could work well with Coleman's assistant Osian Roberts who is also a candidate.
Coleman, he says, is a tough act to follow after steering Wales to the semi-final of Euro 2016.
"It is difficult because of the players available," said Ratcliffe.
"You've got to have some credibility to go and stand up in front of them and tell them what you expect and what you want.
"So that rules out quite a few people, but then there are a few people that you go, 'yeah, they've got a chance' but they are quite inexperienced."
Under Coleman Wales, inspired on the field by Real Madrid forward Gareth Bale, qualified for their first major finals since 1958.
And at Euro 20126 the team exceeded expectations with a stunning 3-1 quarter-final win over Belgium before losing to eventual champions Portugal.
Coleman left the job in November to become manager of Sunderland, leaving the FAW with a tough selection process, Radcliffe says.
They hope to make an appointment in January.
"It is a very difficult situation, most probably the hardest decision the FAW will have to make," added Radcliffe.
"It is most probably going to go to someone inexperienced, but that doesn't mean they won't make a success of it.
"It's very difficult, probably the FAW's hardest decision ever."
Radcliffe, who played alongside Giggs for Wales, believes the former Manchester United man is favourite but would need an experienced team around him.
"I would have thought Ryan could come in and use the people already there. It will be interesting if he is given it, who he will bring with him," he said.
"With the players available, Wales should be competing at major tournaments. We've got the quality in the squad to get us there."