Neil Warnock: Cardiff City boss feels 'betrayed' over red card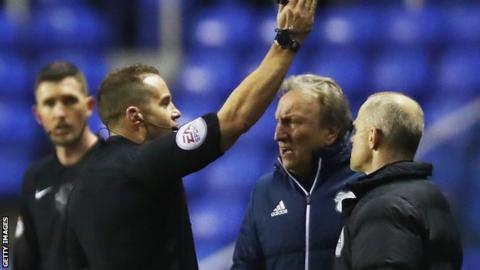 Cardiff City manager Neil Warnock says he feels 'betrayed' by fourth official Andy Woolmer after he was sent off in the Bluebirds' 2-2 draw with Reading.
Warnock, who said at the time he thought the red card was a "travesty", has been charged with misconduct by the Football Association.
He says the fourth official took private comments, wrote them down and used them against him.
"That's a disappointment for me and I feel really let down on that," he said.
"I feel betrayed if I am honest, because I said things to the fourth official Andy Woolmer and I've been one of his biggest fans over the years. I've sent letters praising his refereeing.
"[He] must have written [comments] down from the first minute, which I find very unusual for a fourth official to make notes like this.
"Comments I have made to Andy Woolmer have been used against me personally and I am advised by the LMA [League Managers' Association] I will have to plead guilty and face a fine of £2000.
"I don't feel the way I talked to Andy was offensive. I didn't say it to the media and Andy is a referee I've known for many years and been supportive of.
"There were things going on, on the Reading bench. You never saw me outside my technical area. I never saw [Reading manager] Jaap Stam in his technical area!"
Although will be forced to accept the misconduct charge, Warnock is unwilling to let the matter drop, explaining he has compiled a video of decisions he felt referee Steve Martin got wrong in the Reading match.
"That's gone to the LMA and the referee's association as well, so it will be interesting to see what feedback we get back," he added.
"I think I can only comment on the referee we had against Reading once I have retired! Otherwise I will get myself into serious trouble."
The Bluebirds will be without captain Sean Morrison for a "few games" as he has picked up a groin injury, while striker Danny Ward has undergone knee surgery and will miss the Christmas period.