Renato Sanches: Swansea City head coach Clement denies early Bayern return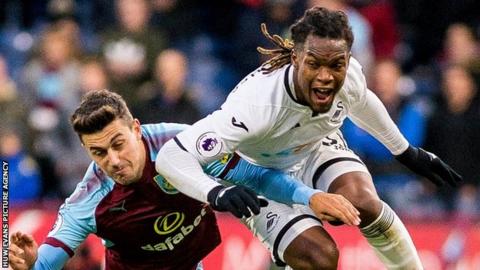 Swansea City head coach Paul Clement has denied out-of-form Portuguese midfielder Renato Sanches will have his loan from Bayern Munich cut short.
Sanches joined on a season-long deal in August, but after a number of poor displays, there has been speculation in the player's home country that he would return to the German club early.
"There is no news," said Clement
"He's been out of the last two squads, he's not very happy."
Swansea are bottom of the Premier League ahead of their trip to Everton on Monday, 18 December. Clement insists there has been no talks to offload Sanches early.
"I haven't had any specific communication with Bayern regarding Renato's current situation, it's just speculation," said Clement.
"Contractually, I believe he's signed for us for the season, and there were no stipulations in there that he has to play this amount of games for him to stay for the full term.
"As far as I know he's a player here for us for the season."
Fulfilling his potential
Sanches has only completed two full 90 minute games in the Premier League, and was substituted at half time in November's 1-0 defeat at Chelsea.
He was then left out of the squad for the win over West Bromwich Albion and the heavy defeat against Manchester City.
But Clement remains optimistic the 20-year-old can rediscover his best form.
"Renato is a very good player and I do believe that he can make a contribution for us," Clement added.
"But for him to do that he needs to start playing up to his potential. When he does that he'll feature a lot more.
"[We've got to] show him that you have belief in him and the obvious answer would be that you have to keep him involved in the squads, but I'm more believing that behind the scenes you've got to work with him.
"Clearly his confidence is low, but it was low when he came here.
"You would have hoped that he would have gone back up to a good level, but it's taken more time than we all would have hoped."
Impact signings
Swansea could kick-off at Everton five points adrift at the bottom, if other results over the weekend go against them.
But Clement is targeting a fast start to the January transfer window.
In August the Swans sold midfielder Gylfi Sigurdsson to the Toffees after a protracted transfer negotiation, and only made signings late in the window.
"We can say that our summer window was less successful than we would have liked or hoped for, but our last January window was very successful," said Clement.
"We had [Martin] Olsson, [Tom] Carroll, [Jordan] Ayew and [Luciano] Narsingh all come in and three out of those four players [made an impact].
"Even Luciano, he had a good game against Burnley which was a winning performance.
"All those three players made an impact immediately, they came straight into the team and they're the kind of players we need now in January, players that are going to go straight into the starting 11.
"What we don't need is squad players."