Gary Rowett: Derby County boss has no ill will a year on from Birmingham sacking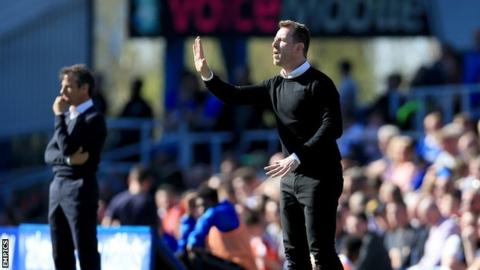 Derby County manager Gary Rowett has dismissed the notion that he wanted to leave his previous job at Birmingham City, prior to being sacked a year ago.
Rowett left St Andrew's with Blues seventh in the Championship, but they are now in the relegation zone, while his Derby side are fourth in the table.
He told BBC Radio Derby: "I bear no malice. It happens in football.
"I have a reticence to say too much about the whole thing, but I've been asked a lot about that this week."
Exactly a year and a day on from his Birmingham departure, he refuted suggestions that he tried to leave St Andrew's, having previously been linked with managerial vacancies at Queens Park Rangers, Fulham and Wolves.
"There's loads of stuff knocking about that 'Rowett wanted to leave'. The simple fact is that, if I'd wanted to leave, I would have left," the 43-year-old said.
"It was a surprise to me and a surprise to my staff. A couple of days later, it was a case of 'What do I do next?' And I thought I might get a decent opportunity.
"Could I see myself still being successful? Yes, I've got the self-belief to think that. Did I think there might be a good opening round the corner? Of course."
From West to East Midlands
Since Rowett left St Andrew's on 14 December, Birmingham have won just eight times in 46 league matches.
Harry Redknapp: 3 wins in 11 matches
Steve Cotterill: 2 wins in 10 matches
Gianfranco Zola: two wins in 22 matches
Lee Carsley: 1 in in 3 matches
Since Rowett was appointed as Derby manager on 14 March, the Rams have won 15 times in 30 league matches.