Sergio Ramos scoffs at World Cup threat hanging over Spain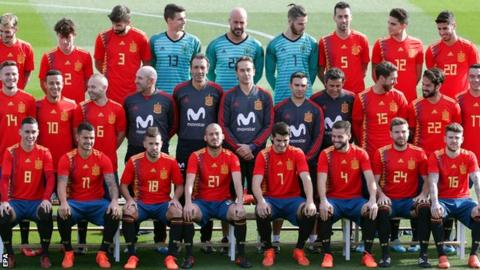 Spain defender Sergio Ramos is adamant his country will compete at the World Cup after suggestions they might be excluded following a warning from Fifa.
Football's governing body sent a letter to the Spanish football association (RFEF) stating that the government must not interfere in its elections, after reports in the country.
If deemed guilty Fifa can choose to suspend the membership of any country.
Ramos said: "I can't believe we could miss out due to such a dispute."
"I struggle to believe that."
Spanish publication El Pais said the country's sports council contacted the RFEF over ballot to choose a successor to ex-president Angel Maria Villar, who stepped down in July on corruption charges.
A statement from Fifa said: "A joint delegation from Fifa and Uefa will travel to Madrid in the near future to observe and analyse the situation that the RFEF is going through.
"We recently sent a letter to the RFEF showing concern and reminding them that, according to the Fifa statutes, all member federations must manage their affairs independently and ensure that there is no interference by third parties."
When asked about the threat hanging over Spain's participation at the World Cup, the country's prime minister, Mariano Rajoy, said: "I cannot contemplate that scenario.
"I'm absolutely convinced Spain will go to the World Cup and that we are going to win it."