AC Milan: Uefa refuses Serie A club's FFP request after Chinese takeover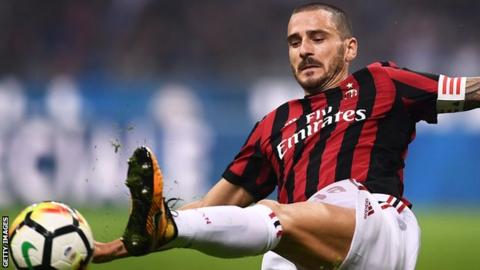 Uefa has rejected AC Milan's request to waive Financial Fair Play (FFP) rules, because they remain unconvinced about the Italian club's Chinese backers.
The seven-time European champions have incurred losses of 255m euros in the past three seasons - significantly more than the 30m euros allowed.
The club asked if they could strike a 'voluntary agreement' after a takeover by entrepreneur Li Yonghong in April.
"The situation will be assessed again in early 2018," Uefa said.
"AC Milan will continue to be subject to the ongoing monitoring process. There are still uncertainties in relation to the financial guarantees provided by the main shareholder."
Milan spent 230m euros (£210m) on new players last summer, including centre-back Leonardo Bonucci, striker Andre Silva, and playmaker Hakan Calhanoglu.
However, under FFP, any club that spends more than it earns faces sanctions, which can range from a fine to a ban from European competition.
Uefa has told BBC Sport that fines have dropped significantly since season 2013-14, from a high of 29m euros to 9m euros in 2015-16.
It also revealed that the aggregate losses posted by clubs in Europe's top divisions dropped by 81% - from 1.7bn euros to just over 300m euros - from when FFP was introduced in 2011, until 2015. A further decrease is expected when the 2016 figures are announced.