Premier League half-term report: How do your team rate this season?

By Phil McNulty
Chief football writer
Last updated on .From the section Football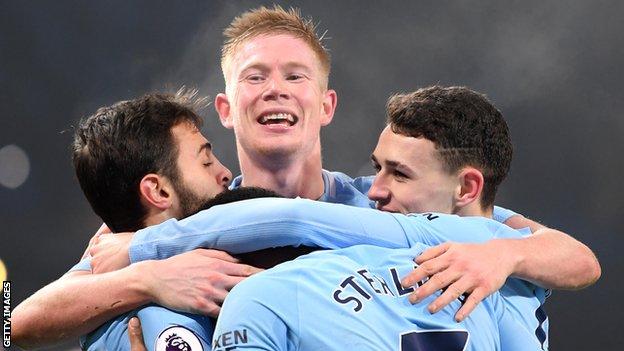 Manchester City have enjoyed a record-breaking start to the season, six clubs have changed their manager, and Burnley are battling for a European place.
It has been a typically eventful first half of the Premier League season, but who is exceeding expectations and who is underachieving?
Here's my half-term Premier League report.
Manchester City, 1st
This has been the season Manchester City's owners were dreaming about when they finally put Pep Guardiola in place at Etihad Stadium.
Their magnificent play has been inspired by the world-class pair of Kevin de Bruyne and David Silva, the youthful brilliance of Leroy Sane and Gabriel Jesus, and the flourishing of Raheem Sterling.
Some of the football produced has been close to perfection - the Premier League's untouchables and looking like Champions League favourites.
The questions now are: How many records can they break? And how many points will they win the title by?
Team rating: 9/10.
Manager: After a transitional first season, this is Guardiola's City - helped by replacing flawed goalkeeper Claudio Bravo with the excellent Ederson - and he is once again showing he can produce winning football with a purist approach.
Manchester United, 2nd
Manager Jose Mourinho would have been hoping to be closer to a title challenge after his £75m summer outlay on Romelu Lukaku - but while both the striker and Manchester United have performed perfectly creditably, they have paled in Manchester City's shadow.
They have felt the loss of Paul Pogba to injury and suspension for key games and have disappointed in crucial fixtures at Liverpool and home to Manchester City.
Their qualification for the Champions League knockout stage was impressive, but their league campaign is threatening to be an anti-climax.
Team rating: 7/10
Manager: Managing United has often appeared to be a joyless experience for Mourinho this season and the old caution got the better of him at Anfield and at home to Manchester City.
Will probably still win a trophy. And there is no question the embarrassing Carabao Cup loss at Bristol City will be a blow to Mourinho and United as he has always made this tournament a target. He will have seen it as a chance to strike a blow at Manchester City, now the chance has gone.
Chelsea, 3rd
They have not touched the heights of Antonio Conte's first season in charge. Still very consistent and right on course for a top-four place but just missing the sparkle of that superb title campaign.
Tiemoue Bakayoko has struggled to emulate the influence of Nemanja Matic in midfield, although striker Alvaro Morata looks a fine acquisition and playmaker Eden Hazard continues to shine.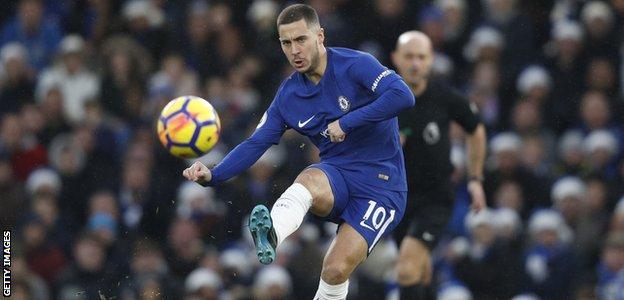 They have looked efficient rather than spectacular and a mixed Champions League group performance has left them facing Barcelona in the last 16.
Team rating: 7/10.
Manager: Conte has not quite been as settled as last season. Speculation around his future has cooled for now but he will need a big, and preferably successful, second half of the season. Do not put it past him.
Liverpool, 4th
Magnificent going forward and have arguably made the signing of the season in the brilliant Mohamed Salah - but still capable of the damaging defensive meltdown that undermines them, as they proved at Arsenal.
They have been superb to watch but can again forget this being their year for the Premier League title. They could, however, be a real wildcard in the Champions League.
What will January bring? Will playmaker Philippe Coutinho stay? Will Southampton defender Virgil van Dijk arrive? Big month.
Team rating: 7/10.
Manager: Jurgen Klopp has an admirable commitment to attacking football but cannot escape criticism for some strange selections, notably when leaving Coutinho and Roberto Firmino out of the Merseyside derby draw with Everton.
Tottenham, 5th
An outstanding Champions League campaign cannot mask the deficiencies of what has been a somewhat disappointing Premier League campaign so far - purely because they've not touched the heights expected after last season's excellence.
Spurs have struggled for consistency playing home games at Wembley and have failed in the big games away, losing at Manchester United, Arsenal and Manchester City.
Harry Kane is getting the goals but Dele Alli has fallen well below what had been expected of him.
Team rating: 6/10.
Manager: Mauricio Pochettino is a high-class operator, as proven by his astute tactical approach to a draw in the Bernabeu and victory at Wembley against Real Madrid - but will hope for an even stronger second half of the season to maintain a top-four challenge.
Arsenal, 6th
Once again they have shown flashes of the sort of quality that raises hopes - but also too many of the frailties that mean they will once more fail to mount a serious title challenge.
The Gunners were outstanding in victory against Spurs but exposed when thrashed 4-0 at Liverpool and in losing 3-1 at home to Manchester United.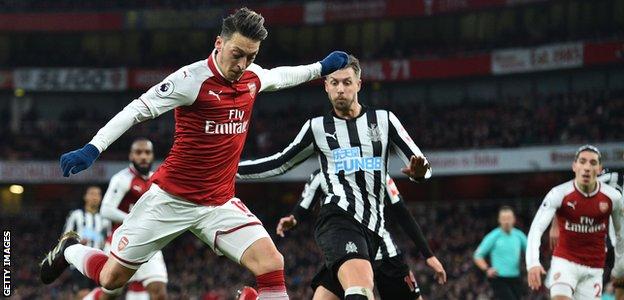 A big January is on the horizon, with speculation sure to continue about the futures of forward Alexis Sanchez and midfielder Mesut Ozil, who are both out of contract at the end of the season.
Team rating: 6/10.
Manager: Arsene Wenger seems to have the same old problems and inconsistencies that have characterised Arsenal in recent years and does not look any closer to solving them.
Burnley, 7th
One of the stories of the season, and a tribute to the superb work of manager Sean Dyche and his players.
They lost star man Michael Keane to Everton in the summer but simply shrugged it off. Magnificently organised, disciplined and with a faultless team spirit. They are mean at the back and getting the goals to win games.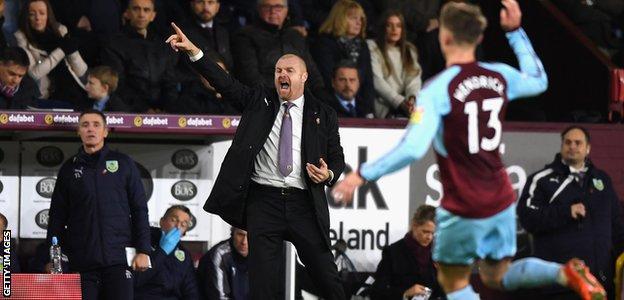 Team rating: 9/10.
Manager: Dyche remains incredibly underrated - does the cement-grinder voice also mean he is underestimated? - and has built a team in his own image and likeness. It is amazing other clubs have not tried harder to lure him away from Turf Moor, but he is also on to a good thing at a fine old club so no-one at Burnley is complaining about that.
Leicester City, 8th
Leicester have appeared revived under Claude Puel following the early season sacking of Craig Shakespeare. They still have the familiar threats of Jamie Vardy and Riyad Mahrez but Demarai Gray is relishing more game time and Ben Chilwell gives an added attacking dimension from left-back.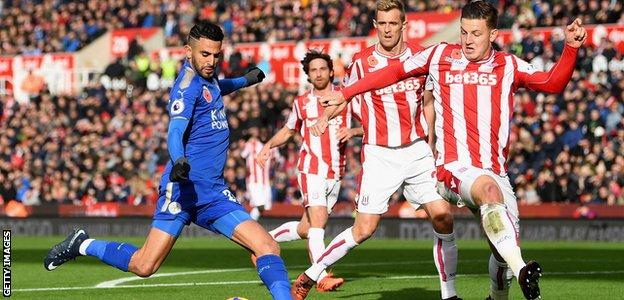 England defender Harry Maguire has settled well and it all adds to up a solid base for the second half of the season.
Team rating: 6/10.
Manager: A surprise choice to succeed Shakespeare after being sacked by Southampton in the summer, Puel's approach has given the lie to his reputation for dour football and he seems more positive second time around in the Premier League.
Everton, 9th
A catastrophic start to the season after spending about £150m - but not replacing striker Romelu Lukaku - ended with Everton in the relegation places and Ronald Koeman sacked in October.
The Toffees' fortunes plummeted further during a chaotic search for a replacement but the appointment of Sam Allardyce and the rejuvenation of Wayne Rooney means things are looking up heading into the January transfer window.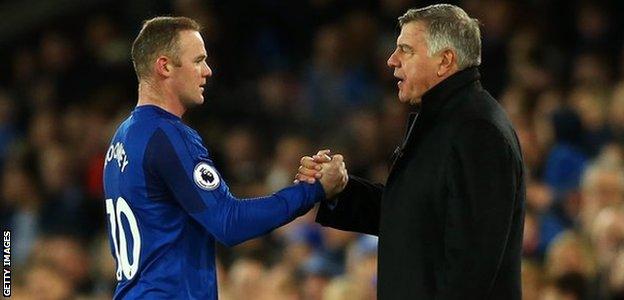 Team rating: 5/10.
Manager: Not the name anyone had in mind as Koeman's successor, but as time and bad results went on Allardyce became the preferred candidate for major shareholder Farhad Moshiri.
A huge bonus to get arguably the biggest club job of his career at 63, Allardyce has settled well to his task and has said and done all the right things - particularly shoring up a leaky defence.
Watford, 10th
The Hornets made a superb start under new manager Marco Silva but the season has veered off course somewhat since Everton's move for the Portuguese - which he never distanced himself from - was rejected.
Suddenly there have been damaging defeats at Burnley and Crystal Palace, and particularly the 4-1 loss at home to Huddersfield Town.
Let's put it in perspective, however, as this has still been a good first half of the season for Watford and Richarlison has looked a real talent on occasions. Recent results, however, are becoming a cause for concern.
Team rating: 6/10.
Manager: Silva is highly rated despite being relegated with Hull City last season, but he will need to further prove his work in the second half of the season. Was he unsettled by the Everton speculation? He insists not but results have tailed off after that saga.
Huddersfield Town, 11th
Portrayed as relegation candidates (yes - guilty as charged), the Terriers are right up for the fight led by a charismatic manager in David Wagner and a home support generating one of the finest and most passionate atmospheres in the Premier League.
The home win against Manchester United and results like the 4-1 victory at Watford suggest this is a team and a manager determined to spend more than one season in the top flight.
Team rating: 7/10.
Manager: Jurgen Klopp's best man shares many of his friend's qualities, but this is a manager in his own right. He plays to his strengths, organises his side and clearly has the full support of his squad. In other words, good management.
Brighton, 12th
It was always going to be hard work to keep Brighton up, and a lack of goal threat suggests this will be a lengthy slog if survival is to be achieved.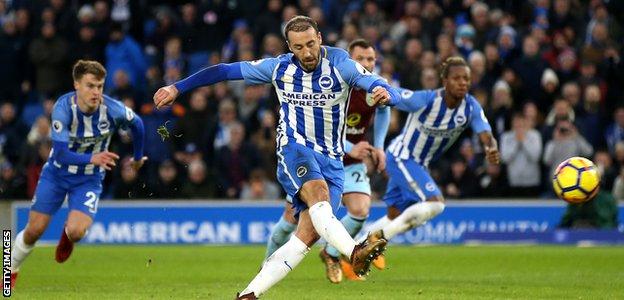 The Seagulls are solid and well-disciplined under Chris Hughton but may need to find inspiration from somewhere. They may just feel, however, that there are three worse teams than them in the division.
Team rating: 5.5/10.
Manager: Hughton is experienced, organised and has been around the block. He can be guaranteed to keep a calm head and spirits up, which may be needed.
Southampton, 13th
It has been a stuttering start under Mauricio Pellegrino following the summer departure of Puel. Southampton have had difficulty scoring goals and look very unlikely to emulate last season's top-eight finish.
Will the Saints board finally cash in on the £70m-rated Van Dijk in January? The Dutch defender has been back in the side after the acrimonious failure of a move from Liverpool in the summer but has not been at his best and was dropped at Chelsea.
Team rating: 5/10.
Manager: An understated character who has had a difficult start to life in the Premier League. How Pellegrino fares in the future may be shaped by the expectations of Southampton's hierarchy.
Stoke City, 14th
The rot set in at Stoke City last season and has been eating away to the point where Mark Hughes had a real crisis on his hands, which has at least been eased with a vital win against West Bromwich Albion.
Once formidable home form had crumbled, defensive solidity had been replaced by the worst record in the Premier League and manager Mark Hughes' recent record in the transfer market does not stand up to close scrutiny.
Not a great combination but the whole club will feel better, albeit briefly, after a crucial victory.
Team rating: 4/10.
Manager: Hughes struggled to arrest a dreadful slide and his suggestion that fortunes will eventually turn still needs to be backed up with a consistent run of results to calm an anxious fanbase. Needs some good results. Fast.
Newcastle United, 15th
Here we go again - never far away from a drama (or a relegation) at Newcastle United.
Early season optimism has been replaced by a sense of crisis and unrest after a run of defeats set against the backdrop of £300m takeover talks between owner Mike Ashley and businesswoman Amanda Staveley. How the whole club needed that win at West Ham.
Rafael Benitez will not be fooled. He needs funds freed up quickly for January or Newcastle will struggle.
Team rating: 4/10.
Manager: Benitez is hero-worshipped on Tyneside but has looked increasingly careworn and frustrated (as he has before in his managerial career) as the politics continues behind the scenes. Will only be truly satisfied when a takeover is concluded - and maybe not even then.
Crystal Palace, 16th
Palace started the season with seven straight defeats without scoring a goal, the fourth of which saw manager Frank de Boer sacked having only been appointed in the summer.
Roy Hodgson struggled initially but an outstanding win over champions Chelsea got Palace's season up and running and they now seem to be heading in the right direction.
Team rating: 5.5/10.
Manager: It is redemption time for Hodgson after his humiliating resignation as England manager following their Euro 2016 defeat by Iceland.
He is utilising his trademark defensive organisation and bringing the best out of Wilfried Zaha. If his mission was to keep Palace up, he is now on course.
West Ham, 17th
The Hammers looked lost and lethargic under Slaven Bilic but in David Moyes they have a manager on a mission to rebuild a battered reputation after three successive failures at Manchester United, Real Sociedad and Sunderland.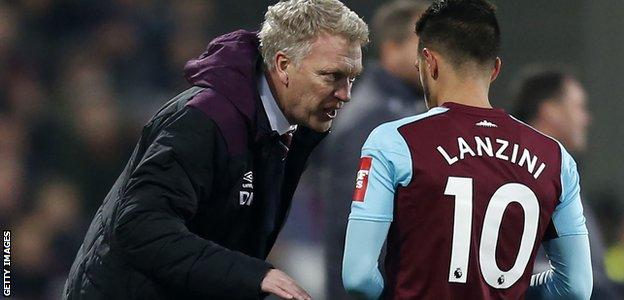 He has shown flashes of his old self and made sound choices by replacing the fading Joe Hart with Adrian and getting the best out of the maverick Marko Arnautovic.
West Ham looked to have sealed up that leaking defence but their home defeat by Newcastle United will have reminded everyone of the work still needing to be done.
Team rating: 5/10.
Manager: A shock choice to replace Bilic, Moyes appears to have the glint back in his eye and, after a sticky start, put West Ham back on course until that poor defeat by Newcastle. As the team's confidence rises, so will his.
Bournemouth, 18th
Bournemouth have endured a poor start - looking likely to concede too often - and may need Jermain Defoe to roll back the years once more if winter is not going to lead into a struggle in spring.
Team rating: 4/10.
Manager: Eddie Howe has been disappointed with his team too often this season, but he has also been tactically naive on occasions. The approach against Liverpool more or less guaranteed defeat - had he not watched how Everton and West Bromwich Albion frustrated Jurgen Klopp's side?
Principles yes - but there must also be pragmatism.
West Brom, 19th
The days of August and two league wins from two seem an age away - they have had no top-flight victories since and have endured a mixed start under new manager Alan Pardew after he succeeded Tony Pulis.
Pardew needs to find a way of injecting menace into a shot-shy side in January, although summer signing Oliver Burke has started to show signs of promise.
Team rating: 4/10
Manager: Pardew is only just in the door at The Hawthorns and this most confident of characters has a big job on his hands. Has a "boom and bust" record as a manager - the Baggies will hope for boom.
Swansea, 20th
Dismal season and another December managerial sacking as Paul Clement was 2017's version of Garry Monk in 2015 and Bob Bradley a year later.
There had to be sympathy for Clement, left with a side shorn of the goals and inspiration of Gylfi Sigurdsson and Fernando Llorente, who were sold expensively in the summer. Swansea look prime relegation candidates.
Whoever takes over will need some smart work in the January market and somehow find better from Renato Sanches, who has been a desperate disappointment since his loan move from Bayern Munich.
Big, big survival job. Again.
Manager: N/A
Team rating: 3/10.