Everton v Swansea: Ashley Williams 'less emotional' about facing former club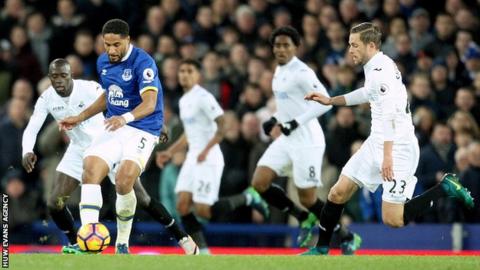 Ashley Williams says playing against Swansea City for Everton will be less emotional this season.
The defender joined the Toffees from the Swans for £12m in August 2016 after playing 346 games in eight seasons at the Liberty Stadium.
Bottom-of-the-table Swansea are at Goodison Park in Monday evening's Premier League match.
"I don't think it will be emotional this season - it was last season," said the 33-year-old Wales captain.
"I think it felt weird on both occasions and a little bit strange because I played in that kit - the white kit - for so long and to be facing them with Gylfi [Sigurdsson, Everton's former Swansea midfielder] and a lot of my friends were still there then.
"The team's a little bit different this year. I don't know as many of the guys so I'm sure it won't be such a strange feeling as it was last year.
"At the end of the day it's just another game that we want to win and keep a clean sheet at home," he told the official Everton website.
Williams was joint captain at Swansea when they were promoted to the Premier League in 2011 and when they won the League Cup two years later.
They have not fared well since his departure, struggling to avoid relegation at the end of the 2016-17 season when Sigurdsson's performances were key to their survival.
The Iceland international has since joined Williams at Goodison Park, and could line up against the Swans for the first time since his £45m summer transfer.
Paul Clement's Swansea have 12 points from 17 games ahead of dates with in-form pair Everton and Crystal Palace before the halfway mark of the season.
Sigurdsson's goals and creativity have been badly missed by Swansea, while the protracted transfer saga damaged Clement's ability to act decisively in the summer window.
"I would like Gylfi to be here, but I don't think about how much I miss him and Fernando Llorente [Swansea's former striker who joined Tottenham]," Clement said.
"They were two good players we had, but I think about the players I have now and trying to improve the team."