Gary Owers: Torquay United manager takes blame for 'pathetic' defeat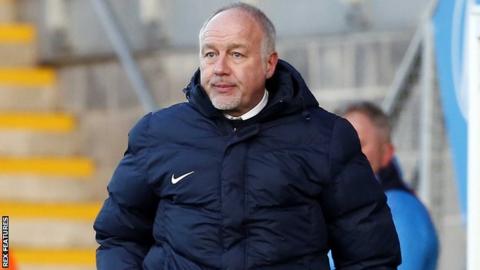 Manager Gary Owers says he is to blame for Torquay's "pathetic" 4-0 loss at home to Maidstone in the FA Trophy.
Owers made five changes to his side, who are five points from safety in the National League relegation zone.
Jazzi Barnum-Bobb was sent off to make the Gulls' day even worse after a dangerous challenge in the second half.
"It was a pretty pathetic show from my team, I'm the one who's responsible so blame me," said Owers, who took over as Gulls boss in September.
Owers has a number of players whose loan spells are set to end, so made changes in order to assess the rest of his squad.
"I wanted to give other players an opportunity to show me why they're here and clearly some of them didn't - and the outcome was horrific for us," he told BBC Radio Devon.
"I've told them how I feel and they know how much I care about the situation we're in.
"We've been here for 14 weeks and had the favour of the fans' support and appreciate that, but we've lost some of that. They've gone away unhappy and critical of me and the team and that's fair enough."