Steven Naismith: January poser for Scotland and Norwich forward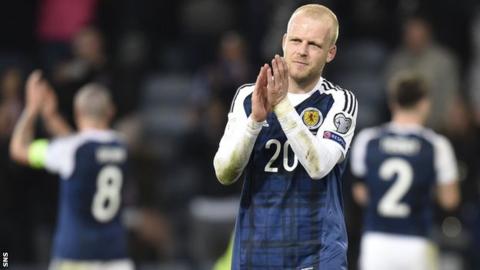 Scotland forward Steven Naismith has hinted he will consider his future at Norwich City when the transfer window re-opens next month.
Naismith, 31, has been training for three weeks after suffering an ankle ligament injury earlier this season.
Capped 45 times for his country, the former Kilmarnock, Rangers and Everton man has played three times this term.
"In the last few weeks, it's been tough to get back in," said Naismith of his struggle at Carrow Road.
"Being out for a period of time has made me realise the main thing is playing as many games as you can," he said.
"The new manager (Daniel Farke) came in during the summer and I had a really good pre-season, scoring goals and felt really fit. He made a few signings and had his idea of how he wanted to play and who he wanted to play.
"I have struggled from after I got my injury and that's something I will need to look at in January. I'll do as much as I can in the short term to do that, but I don't think at my age you can afford to have too many months not playing when you are fit and ready to play.
"I do want to come back and play in Scotland and the older I've got, the more interest I have in terms of coaching and tactics, and what you should be doing as a player in games.
"If I can do that for some of the young guys coming through in Scotland, then that's something I want to give back in that respect. But whether that's in the short term or long term, we need to wait and see."
Under former Scotland coach Gordon Strachan, Naismith was a regular in the national team but last played for his country in March.
"Towards the end of [the unsuccessful World Cup qualifying] campaign I found it tough," he added at a Loaves and Fishes charity event in Glasgow.
"I understand it was the right thing not to take me, but I found it slightly embarrassing. As a youngster you feel embarrassed when you are getting left out but when you are an older player I found it quite hard to take.
"I definitely want to get back playing so I can compete to be back in the Scotland squad. It's one of the proudest things I have done in my career, play for Scotland, and I want to continue doing that as long as I can."
Meanwhile, Naismith says there are "some great stadiums" Scotland could use should they move home games from Hampden.
The Scottish FA's lease for Queen's Park's ground expires in 2020 and Scottish Rugby's Murrayfield is one of the potential alternative venues under consideration.
"There have been a few games where I thought the atmosphere was incredible," said the Norwich forward.
"But, and my dad and my grandparents wouldn't thank me for saying it, if everything was right they should move and use the facilities we have got.
"You could create a good system where you are using Pittodrie, the two Edinburgh clubs, Celtic, Rangers, even Kilmarnock if it's back on grass, it holds a decent crowd and gives a great atmosphere.
"It does need to be full and it needs a great crowd to get it going. It's probably the spaces behind the goals [at Hampden], it doesn't have a great impact."