Jose Mourinho: Lee Johnson buys '£450 bottle of wine' for Manchester United boss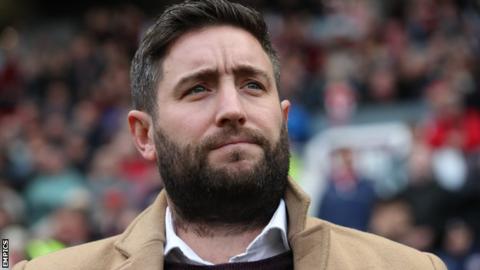 Bristol City boss Lee Johnson hopes a "£450 bottle of wine" will entice Jose Mourinho to sit down with him after Wednesday's Carabao Cup quarter-final.
The Championship side host Mourinho's Manchester United in their first last-eight tie since the 1988-89 season.
Asked if he hoped to spend time with the Portuguese, Johnson said: "I hope so. I spent £450 on a bottle of wine!
"I have had to raid my little girl's piggy bank. It is being flown in especially from Portugal."
The 36-year-old head coach, who has overseen eight wins in the past 10 games, has ordered a bottle of Barca Velha Red 2004, reportedly a favourite of the former Chelsea and Real Madrid manager.
"We have done the due diligence and realised Jose likes this particular bottle that has to be poured by an expert," Johnson told BBC Sport.
"So hopefully he'll come in and have a little chat with me and I'll try to pick his brain for five or 10 minutes.
"He's absolutely at the top of his game, with world-class managerial qualities. Any young coaches like myself of course naturally try and emulate coaches like that."
'Our least important game of the month'
Bristol City have knocked out three Premier League sides in Watford, Stoke and Crystal Palace - plus Plymouth - to reach the quarter-finals.
But, sitting third in the Championship table, the Robins are focused on bidding for promotion to the top flight.
Defender Aden Flint said: "This is a big game but it is probably the least important of the month, given where we want to be and where we are in the league.
"It is exciting to play against them. They are one of the biggest clubs in the world. The fact it is a quarter-final makes it even more massive.
"We have earned the right to play against United, given who we have beaten to get to this stage.
"If we are where we want to be at the end of the season, we'll be playing against teams like United every week next season."
Bristol City had never previously been drawn to face Manchester United in a cup, with their only previous cup meeting coming in the 1909 FA Cup final.