No major Aberdeen squad changes in January, says Milne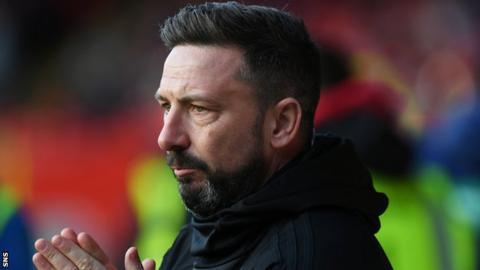 Aberdeen chairman Stewart Milne does not expect boss Derek McInnes to make big changes to his squad in January.
The Dons are second in the Scottish Premiership, two points behind a Celtic side that have a game in hand.
"Derek has plans to try and freshen up the squad over the January window but he doesn't have major plans," Milne said after the club's annual meeting.
"We invested a lot of time, effort and money to build a squad over the summer months."
Aberdeen overtook and moved three points clear of Rangers on Saturday with a 4-1 home win over Hibernian.
"Saturday, there was further evidence of that squad really starting to gel together and I think they started to show what they're capable of," said Milne. "I think we'll benefit greatly from that in the second half of the season.
"The real planning is starting now for further changes that'll have to be made in summer time.
"We'll help [Derek McInnes] to bring about the changes that he wants to during the January window and, as I say, the planning for further changes over the summer are now well in hand."
McInnes decided to stay at Aberdeen after interest from Rangers and the Dons have won their past three games, with Dundee and St Johnstone defeated before Hibs' visit to Pittodrie.
"We've all seen initially the response from the fans at the Dundee game, we've seen the response here on Saturday, we've seen a response from the team," Milne explained. "That's how much Derek McInnes means to everyone associated with this club."
Aberdeen face Celtic in Glasgow on Saturday, having lost their past eight meetings with the reigning champions.
However, Brendan Rodgers' side lost a domestic fixture for the first time in 19 months with a 4-0 defeat away to Hearts on Sunday.
"I don't think any of us are going to get carried away and start speaking about title challenges," said Milne. "We just need to make sure that we take maximum points out of every game we play and then that'll take care of itself as we move through the season.
"What Derek's always been very keen to do is keep close, to keep the pressure on. We obviously are reliant on other clubs doing the same.
"It was fantastic to see the performance from Hearts on Sunday and also encouraging to see the likes of St Johnstone coming back [to beat Rangers].
"I think we've always said that if we're going to rein in Celtic, we need four or five other clubs that are part of that, keeping the pressure on them right through to the end of the season."