Cash-strapped Portadown battling to stay in business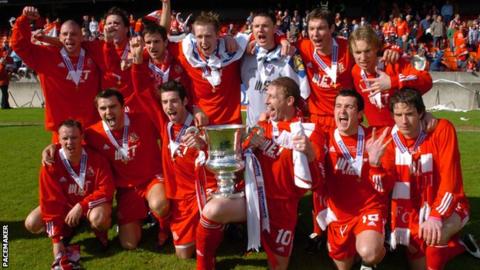 Championship club Portadown could be forced to fold because of financial pressures, board members have admitted.
However, directors said they were working to resolve the problems and have pledged to continue paying wages until the end of the season.
The issues were revealed at a meeting with supporters at Shamrock Park.
The club are facing considerable debts and revenue has slumped following the team's relegation from the Irish Premiership earlier this year.
It all represents a huge fall from grace for a club which relatively recently was one of the top teams in Northern Ireland.
They were Irish League champions four times between 1990 and 2002 and the last of their Irish Cup triumphs came in 2005.
Last season they were hit with several fines and points deductions for administrative breaches, including a 12-point deduction for irregular payments to players.
Niall Currie's team are currently fifth in the second-tier Championship, 14 points behind leaders Ballyclare Comrades.
In a statement issued on Monday night the club said: "Our weekly wage costs have been reduced by two-thirds compared to last season and a number of the historical debts have been addressed.
"However, when you realise the weekly costs mount to around £6,000 and an average home gate may only leave you with over £350 profit, it is clear we need additional income streams.
"As a club in the Championship, but with Premiership-level costs, we are facing annual bills such as £22,000 rates and £12,000 apiece for insurance then electric and heating.
"We have plans in place and it was extremely encouraging to hear fans present at the meeting put forward suggestions to help."
"It is an ongoing process and we are in negotiations at present to find a resolution to the issue of the historical debt."