Hearts: Owner Ann Budge to stay at club for at least another three years

By Brian McLauchlin
BBC Scotland
Last updated on .From the section Hearts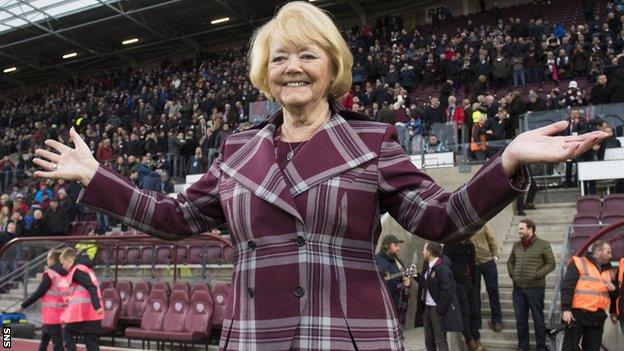 Hearts owner Ann Budge says she expects to be in charge of the club for "at least another three years".
Budge became majority shareholder at Tynecastle in the summer of 2014 when she paid about £2.4m to take Hearts out of administration following a period of mismanagement at the club.
"None of us are getting any younger and I clearly am going to finish this project," she told BBC Scotland.
"That won't take three years, but there are other things we want to do."
Budge will eventually relinquish control when the fans group Foundation of Hearts pays her back the £2.4m she put up initially.
At that point, her shares in Hearts will be transferred to them, but the 69-year-old businesswoman gave a strong hint that, even then, she may still have a major say in the running of the club.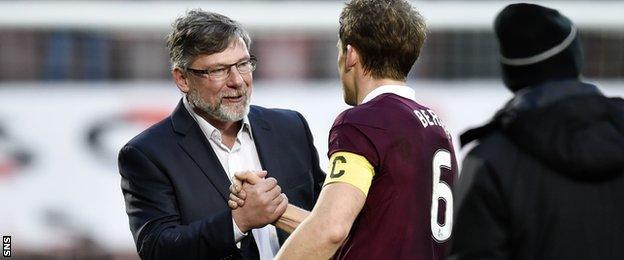 "The simple fact is, when the shareholding changes hands, I guess if the Foundation of Hearts want me to go then they will be able to invite me to go.
"If they want me to stay on in whatever capacity then I will happily consider it.
"I will be honest and say for the last couple of months for the first time I have thought, 'Why on earth did I get myself into this?'
"But, on balance, I wouldn't want to be doing anything else."
Budge oversaw the sacking of inexperienced head coach Ian Cathro in the summer, with director of football Craig Levein taking his place back in the dugout, having managed Hearts from 2000-2004.
While Budge says Levein accepted full responsibility, she stressed that the decision to appoint Cathro lay with the entire board.
"The board had to agree that decision," she added. "He [Craig Levein] should not be too hard on himself.
"We all believed Ian was the right choice. We all wanted it to work and we held, and hold, Ian in the highest regard. It was maybe just a little too early."
Levein looks to be turning the corner with Hearts, evidenced by his side bringing Celtic's 69-game unbeaten domestic run to an end with a 4-0 win on Sunday.
Budge says the 53-year-old knows what is required to be a success.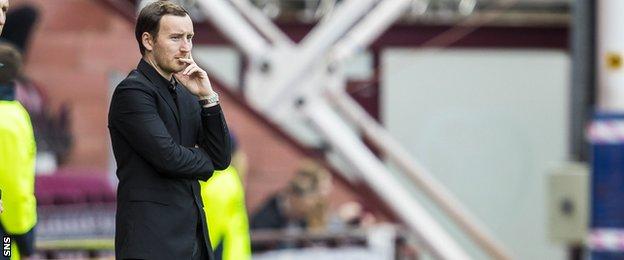 "He knows he has to perform," she said. "We don't need to talk about it. One of the things I said to him at one point was - if this doesn't work out, I could lose not only a head coach but also a director of football.
"He is [aware it's a results business] even more than me. So, yes, he knows exactly what the pressures are."
Levein has spoken openly about the need for new players in the upcoming January transfer window and the club owner says that, despite the heavy pressure on the finances, everything possible will be done to try to assist wherever possible.
Among the plans that are likely to be approved is a new pitch next summer, with the cost expected to be around the £1m mark.
"I can never forget we are a football club," Budge said. "We are entering a transfer window and, indeed, will again in the summer, so it's a question of managing all of these things.
"Craig has never yet came and asked for something and I have said no.
"That doesn't mean we don't discuss it at great length.
"If it's deemed to be the right thing to do, we have always managed to do it - and I would confidently say that will happen again."