Watford's Adrian Mariappa explains £10,000 loan to Troy Deeney
Last updated on .From the section Watford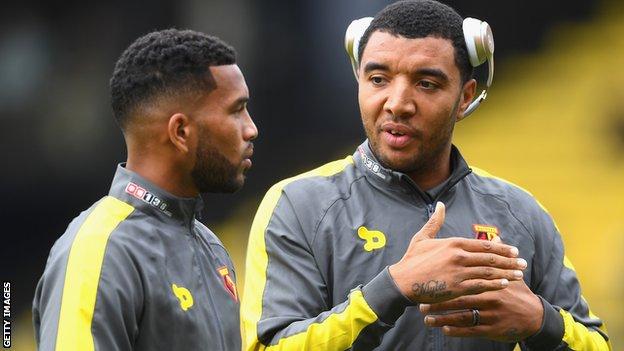 Watford defender Adrian Mariappa says giving a £10,000 loan to team-mate Troy Deeney's family during his time in prison was "what you do for someone you care about".
The striker's wages were suspended and Mariappa stepped in to support his partner Stacey and son Myles.
"I'm sure he would have done the same for me," Mariappa said.
"He was going through a tough time. I used to write to him and spoke to him a few times.
"It's what you do for someone you care about."
Mariappa, 31, rejoined Watford in 2016 after spells at Reading and Crystal Palace, but says that he kept in contact with Deeney during his four years away from Vicarage Road.
"I've known Troy for a long time now and even when I left we kept in touch," he added.
"Troy is Troy. Anyone who knows him knows it's such non-stop banter."
Deeney, 29, admits that he told his son that that he was away "at football camp" during his prison sentence but also believes that it was "the best thing that ever happened to me" as it made him reassess his behaviour and priorities.
Watford decided to retain Deeney on his release. In November 2015, the striker fulfilled a promise to his former cell-mates by bringing them to Vicarage Road to see him play Manchester United.
Deeney, who is currently serving a four-match suspension, has scored 25 goals in 88 Premier League games since the Hornets' promotion in 2015.