Barnsley: New owners say chance to buy club was 'almost too good to be true'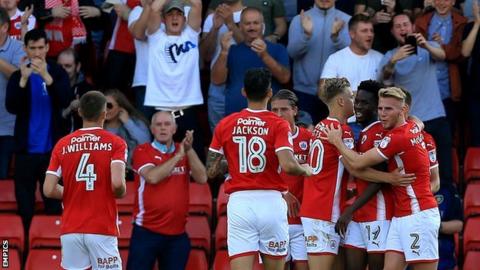 Barnsley's new co-chairman Paul Conway says he believes the club is "one of the best run" in the country.
Conway is part of a consortium, headed by Chinese billionaire Chien Lee and also including baseball pioneer Billy Beane, that has bought an 80% stake.
And they have promised long-term involvement in the Championship club.
"When we saw some of their results, both playing and financial, we thought it was almost too good to be true," Conway told BBC Radio Sheffield.
"I think this is one of the best-run clubs in the country. We're just trying to bring that little extra push that helps this club to be successful.
"We're disciplined people. We're not going to do anything crazy but we believe year after year we can improve performance. We'll take our time."
The consortium, which owns Ligue 1 club Nice, has bought Barnsley from Patrick Cryne, who has been diagnosed with terminal cancer, but whose family will retain a 20% stake.
"Like Nice, it's a team with a good tradition, passionate fan base, a great coach and just needs a little help on the commercial side," Conway said.
"We dramatically increased the revenue at Nice in the first year. With that, we complemented the squad and built a new training ground, and we improved the fan experience so more came, and the performance improved.
"After our first year there, the team finished third for the first time in 43 years and reached the Champions League for the first time."
But what does the takeover mean to Barnsley fans, what would inspire a Chinese billionaire to buy a controlling stake in a club 20th in the second tier of English football and could South Yorkshire could now see a 'Moneyball' revolution?
'Stuff like this doesn't happen to Barnsley'
Liam Dyson of Barnsley fanzine West Stand Bogs is keeping an open mind after just the third takeover in the club's 130-year history.
"I think the emotions of most fans are mixed. There's a lot of intrigue as to how it will turn out, but then there's also some cynicism that you never think these things will go well," he told BBC Sport.
"There's a tinge of sadness that we've kind of succumbed to the way modern football is because before now we've always been owned by a fan of the club.
"Realistically, they are here to make money. They have seen the model that we had here already and they believe they can evolve that to help us be successful. I don't expect them to come to many games."
With Paul Heckingbottom's side four points above the relegation zone in the Championship, Dyson believes that staying up will be an achievement this season.
He said: "Stuff like this doesn't happen to Barnsley so fans are going to be excited and expectations will rise now. Other than the one season we had in the Premier League [in 1997-98] we've never had that before and we need to manage it.
"If we stay up, then Paul Heckingbottom has done a great job. Almost all of the players we signed in the summer had not played at this level."
'Football is a means to an end'
When Lee, a tourism entrepreneur, invested in Nice there was talk about the club's prospects on the field, but also the opportunities open to them on the French Riviera.
Similar opportunities are not immediately obvious in Barnsley, a market town in South Yorkshire.
Simon Chadwick, a professor of sport enterprise at Salford University, said it was both an "odd" choice and a "strange location" to buy a club when taking into consideration a Chinese government clampdown on "irrational investments", and the number of higher profile teams in the area.
"In the summer there was a statement that from now on all football club purchases should somehow be linked to China's 'one belt, one road' initiative," Chadwick told BBC Sport.
"It is a top-level government strategy that is intended to open up trade routes between China and the rest of the world. When we talk about 'one belt, one road', we are talking trade routes, oil and gas and about possibly real estate opportunities.
"This suggests that this relates to real estate or to Lee's portfolio of tourism businesses. So far he has used football as a way of promoting and developing his tourism empire."
Chadwick added: "This is not a random purchase; it is not a sugar-daddy purchase; it is not a vanity purchase. There will be very clear economic and strategic reasons for buying the club.
"There is not just interest in football, but interests in broader industrial, economic and commercial opportunities beyond that.
"Getting to the Premier League will be important but in my experience of the Chinese and their investors, football is a means to an end, not an end in itself."
The HS2 rail line through South Yorkshire, a multi-million pound retail scheme in the town and a drive to boost tourism in the area in the coming years all "fit the bill" according to Chadwick.
Beane practices have become 'universal'
Perhaps as headline-worthy as a Chinese billionaire investing in Barnsley is that Beane is coming along for the ride too.
During his time as general manager of Major League Baseball side Oakland Athletics, he introduced the 'Moneyball' model for using computer-generated analysis to inform player recruitment and tactics.
His spell in charge of the A's was a huge success, with the Californian team vastly exceeding expectations, and Beane became the subject of a book and a film, in which he was played by Brad Pitt.
American journalist David Lengel called Beane's impact on the sport "astounding".
"His model for evaluating baseball talent led a big data revolution in the sport," he told BBC Radio 5 live.
"For Beane, it was a matter of survival for him and the Oakland Athletics. Their payroll was routinely in the lower third of the league and they had no choice but to look at the spreadsheets and find value in areas that other people didn't.
"He was able to pluck players at a time when clubs didn't have any interest in them and the results were astounding. He led them to first or second-place finishes every year between 1998 and 2006.
"The practices that he used have now become universal in the sport. Every team uses them now, regardless of the size of their payroll."
Could Beane, a long-time admirer of Arsenal boss Arsene Wenger and friend of Liverpool owner John Henry, help the Tykes return to the Premier League?
Lengel believes Leicester City's 2016 title win is proof that money is not all it takes to be successful in football.
"I never thought any team that didn't just throw wild amounts of money at it would be able to do anything in football in England before Leicester won the Premier League a couple of years ago," he added.
"Wouldn't it be something if Billy Beane and his tactics were able to dig deep, get into the numbers and find unheralded players, plug them in and shoot up to the Premier League? That's what they're looking for.
"This isn't his first venture into the football pool but it's the first time he's put his money where his mouth is."