Clubs should make football more affordable, says Football Supporters Federation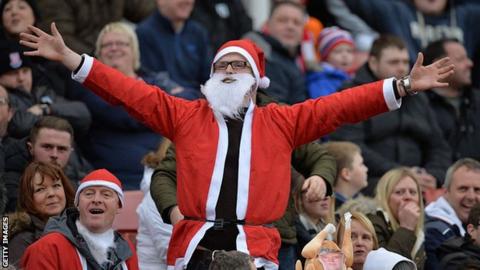 Football fans will spend an average of £171.37 to see their team in away games this Christmas, a Football Supporters' Federation (FSF) study says.
Ticket, travel and food costs between 26 December and 4 January were taken into account by the study.
The FSF also estimates that the away supporters will travel 360 miles to see their team play in that period.
"Away fans shouldn't be taken for granted," said Kevin Miles, the FSF's chief executive.
"Clubs and sponsors can and should do more to make football as affordable as possible."
These findings follow the BBC's Price of Football study, which revealed that 82% of 18-to-24-year-olds (from 1,000 respondents) see the cost of tickets as an obstacle to going to more football matches.
Costs incurred by football fans by league between 26 December and 04 January, according to FSF study*
League
Average cost per fan
Highest average amount spent per away fan
*Measured by analysing costs of match tickets, food and travel (train ticket prices taken on 14 December for Anytime Day Return tickets)
Premier League
£182.08
Man City fans - £383.63
Championship
£169.47
Fulham fans - £368.94
League One
£150.00
Plymouth fans - £468.43
League Two
£157.14
Luton fans - £342.53
According to the FSF, the average price of an away ticket for fans across all leagues during the Christmas period is £24.61.
Within this period, the highest ticket price is the £42 paid by fans of Championship side Nottingham Forest to see their team play Leeds United at Elland Road on New Year's Day.
The lowest is that paid by fans of League One side Rochdale, whose ticket to see their team play at Doncaster Rovers on 29 December will cost £10.
In terms of distance travelled by supporters, Plymouth Argyle fans face the most arduous Christmas in either the Premier League or the English Football League (EFL), with their fans travelling more than 1,000 miles to their festive away games.
The average distance travelled by supporters is 360 miles, although some teams play only one away game in the studied period.
An EFL spokesperson said that, when compiling the bank holiday programme, there was an aim "to ensure we do not overburden clubs and local authorities with fixtures that will attract a major police operation".
The spokesperson added: "Of course, travel distances are also a major factor and we aim to achieve fixtures with no more than approximately two hours' travel involved each way, though occasionally this is not possible.
"We appreciate that everywhere is a long trip to and from the likes of Plymouth or Carlisle but the EFL always ensures that clubs have a home fixture on either Boxing Day or New Year's Day, as is traditional, and these fixtures are an important and celebrated part of the calendar."
Distance travelled by football fans between 26 December and 04 January, according to FSF study*
League
Average driving distance (miles)
Most travel
*Football stadium postcodes were used as a proxy for point-to-point travel estimates
Premier League
372.06
Brighton fans - 816 miles
Championship
358.95
Fulham fans - 748 miles
League One
321.86
Plymouth fans - 1,096 miles
League Two
353.7
Yeovil fans - 722 miles