Dundee: Neil McCann keen to extend A-Jay Leitch-Smith's loan deal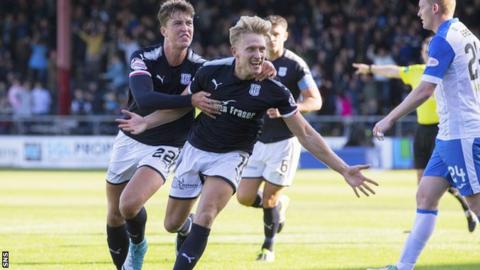 Dundee manager Neil McCann wants to start discussions with striker A-Jay Leitch-Smith over extending his loan stay.
The 27-year-old forward signed a five-month deal from Shrewsbury Town in August and McCann would like to retain his services beyond that.
The Dundee boss has also opened contract extension talks with midfield duo Mark O'Hara and Paul McGowan.
"I have plans to have discussions with Ajay," McCann said.
"He has probably been frustrated he hasn't been involved the last few games, but he played on Saturday and was a fantastic foil to [Sofien] Moussa."
Leitch-Smith scored twice, against St Johnstone, in only his second appearance for Dundee but has not held down a place in the starting line-up.
Before last weekend's 3-0 win over Partick Thistle, his last involvement with the first XI was in October, but McCann values his contributions.
He is also hopeful of securing longer-term commitments from O'Hara and McGowan, with both players out of contract at the end of the season.
"They've not signed new deals, but they are two players we are speaking to," McCann said.
"Both players have been terrific and had an impact on so many of our good results.
"I have always been up front with the media about where I want the club to go and building the side.
"We have some terrifically talented players within the group and I want to build something.
"I'm not trying to dismantle it so we want to start tying players down."