Mathias Jorgensen: 'Amazing Huddersfield fans can have a drink on me'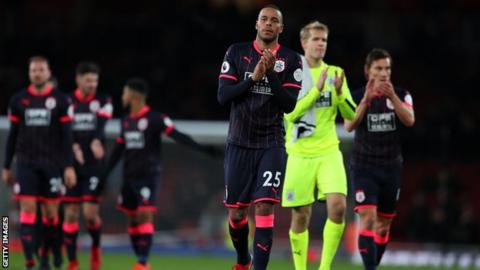 Defender Mathias Jorgensen has offered to buy every Huddersfield Town fan who travels away to Southampton on Saturday a Christmas drink as thanks for their "amazing" support this season.
The gesture could cost the Denmark international more than £8,000.
The Terriers have a 472-mile round trip to Southampton as they look to build on last weekend's 4-1 victory at Watford.
Jorgensen, 27, who is known as Zanka, wrote on Twitter: "I hope you like the gift. Zanka Claus is coming to Town!"
In a video message, he added: "Your support this year has been truly amazing, so I thought I would think up something special for those of you travelling to Southampton this weekend."
The club said away fans will be presented with a voucher when they enter St Mary's Stadium for the Southampton game, and can redeem for a drink at Huddersfield's next home match on Boxing Day against Stoke.
They have been given an allocation of 2,596 tickets for the match at St Mary's.
Huddersfield charge around £3.20 for a pint of beer - and if they sell out at Southampton and all of the fans take up the free drink offer, it would cost Jorgensen £8,300.
The club are playing in the top flight this season for the first time since 1971-72 after winning the Championship play-off final in May and are in 11th place.