Jersey's hops of Uefa membership 'minimal' after FA refuses to back island's bid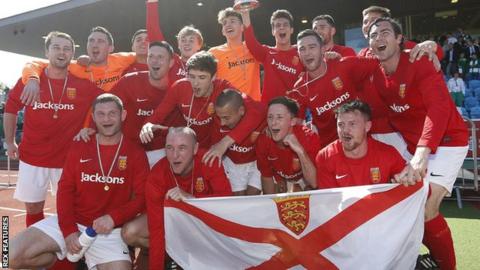 The head of Jersey's FA says the island's chances of joining Uefa are 'minimal' after the Football Association refused to back their bid.
The island's application will be voted on at February's Uefa congress, with the island needing a majority of the 55 member nations to back them.
Earlier this month a Jersey delegation met with high-ranking FA officials.
"The chances of us getting the 28 votes we need are minimal," said Jersey FA president Phil Austin.
In September, the Court of Arbitration for Sport (Cas) ruled Jersey's bid to join must go before Uefa's congress and last month Austin claimed Uefa officials had been 'contemptuous' in their attitude to the island's application to play on the international stage.
Jersey 'not an independent nation'
Cas ruled that while Jersey's case should be put to the congress, the island does not meet Uefa's membership criteria as it is not an independent nation.
Jersey, like the Isle of Man and Guernsey, is a Crown Dependency of Great Britain with its domestic government answering to the Queen as head of state through the Privy Council.
Austin and the Jersey government minister Sir Philip Bailhache met with FA chairman Greg Clarke and vice-chairman and Uefa executive committee member David Gill to discuss their case.
"We had a good discussion and we put our case forward, but they informed us shortly afterwards that they wouldn't be able to support us," Austin told BBC Radio Jersey.
"This is a case of Uefa members closing ranks.
"I don't think they've given a reason. I've got a letter at home which is about two or three paragraphs just basically saying they can't support our case.
"When we were there we were talking to Greg Clarke and he said 'you've got to understand that it's all about politics and all about money.
"There are 55 members in this club and they all get a slice of the cake at the moment and they're not keen on other people coming in which will dilute their share.
"I suppose he was very honest in that regard.
"It wasn't a surprise, but their formal acknowledgement that they wouldn't support us was still a big disappointment to us."
In response, the FA told BBC Sport in a statement: "The FA board analysed the legal case to consider whether Jersey's membership would benefit UEFA and it was decreed that it would not."