Wembley FC: Non-league club 'face bankruptcy' in Football Association dispute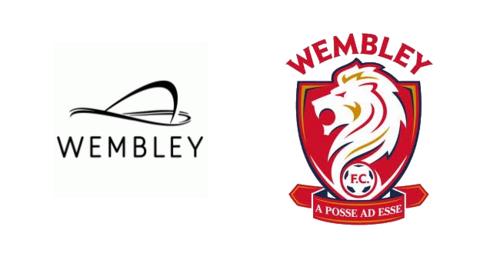 The chairman of non-league Wembley FC says they may be bankrupted because of a trademark dispute with the Football Association over the club's logo.
Brian Gumm claims he is being "railroaded" after the European Union's Intellectual Property Office (EUIPO) ruled in the FA's favour.
English football's governing body had complained that Wembley FC's badge may be confused with Wembley Stadium.
The FA said they must act to enforce their intellectual property.
But Gumm told BBC Radio London: "We'd have to change our logo through the whole club and it would cost us an absolute fortune."
Wembley FC play in the Spartan South Midlands Football League, the ninth tier of English football, and their Vale Farm home is two miles from Wembley Stadium.
They regularly play home games in front of fewer than 50 spectators.
An FA statement said they "take the enforcement of our intellectual property seriously and only take action as a last resort when an amicable resolution does not seem possible".
Public 'could confuse club with stadium'
Wembley FC's current crest, a lion's head on a shield beneath the word Wembley, was registered in 2012 when the club updated their badge after they agreed a sponsorship deal with Budweiser.
The American beer company, which also sponsored the FA Cup between 2011 and 2014, brought former England manager Terry Venables to the club as a technical advisor in the same year.
Their involvement also led to the recruitment of former internationals including Martin Keown, Graeme Le Saux and Claudio Caniggia to play in their FA Cup campaign in 2012-13.
When Budweiser's agreement with Wembley FC finished, the rights to the trademark were passed to the club.
However, Wembley National Stadium Limited (WNSL), which runs the national stadium and is a subsidiary of the FA, applied to the EUIPO to cancel Wembley FC's European trademark.
The body ruled in favour of WNSL in July, stating that the English-speaking public could confuse the club with the stadium.
It said that although there were "a number of visual differences" in the logos, the use of the word Wembley in both meant there was still "a likelihood of confusion".
Wembley FC 'can't afford appeal'
Wembley FC were formed in 1946, and Gumm believes the start of the north London club's history predates the name being used for the national stadium.
"We've always been Wembley, and Wembley Stadium was [originally] called the Empire Stadium," he said.
"We've been living by the side of Wembley [Stadium] for 70 years and we've never had any confusion. I've never seen 10,000 people coming to our games if there is an England game on."
Gumm said that when the club's agreement with Budweiser ended, he received a "threatening letter" from WNSL.
He added: "It got really nasty. I don't know what I was doing wrong.
"We can't even afford to put in an appeal. It will bankrupt the club because we can't afford to change all our signage and kit."