Kyle Edwards and Kane Wilson: Exeter aim to extend West Brom youngsters' loans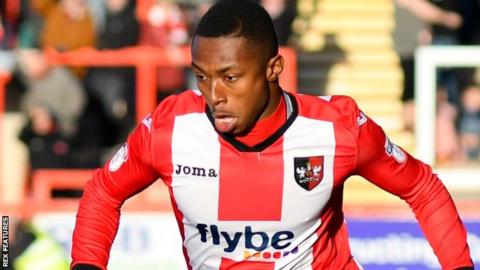 Exeter City hope to extend the loans of West Bromwich Albion youngsters Kyle Edwards and Kane Wilson.
Forward Edwards, 19, and full-back Wilson, 17, have played 20 games between them since joining City until January at the end of August.
"The extension to their loan hasn't yet been signed, it's something we'd like to do and I'm hoping that will happen," manager Paul Tisdale told BBC Sport.
But Tisdale said neither will play in the FA Cup tie between the clubs.
Edwards played a key role in Exeter's second-round replay win over Forest Green Rovers last week, setting up the home tie against West Brom on 6 January.
"I don't think it's appropriate, I don't think they'd be allowed to play and I don't think they'd want to play," said Tisdale.
"I don't think it's something we'd even enter into a conversation about. Let's just assume that's an absolute no."
Tisdale belives both players have impressed since joining the club on transfer deadline day.
"They've been very low maintenance, they're easy to manage, they're committed and purposeful in everything they do and they've contributed on the pitch," he said.
"Kyle has certainly added moments of real skill and attacking flair and Kane has come into the side and made some really good appearances for us."
Edwards, who has scored once in 13 games for City, said drawing West Brom in the FA Cup was "always going to happen".
"I think I'm not allowed to be around either team," he joked.
"It's going to be a bit weird seeing the people I play with regularly now and people I played with before and the first team.
He added: "I've learned a lot of stuff here that hopefully in the next couple of years I can take on and if people see I'm getting game time and playing well here they'll probably take me on and go up in the leagues and hopefully make it at West Brom."