Michael O'Neill is not too big for Scotland job, says NI assistant Austin MacPhee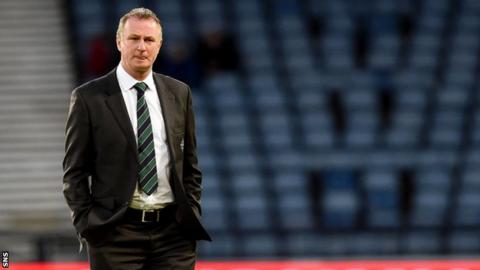 Northern Ireland boss Michael O'Neill will not think he is too big for the Scotland job, according to his assistant Austin MacPhee.
O'Neill is the Scottish FA's preferred candidate, but is a man in demand after his achievements with Northern Ireland.
"He's a fantastic manager and there will be speculation about him all the time," MacPhee said.
"I don't think anybody would be above the Scotland job, Alex Ferguson would never say he was above the job."
And MacPhee, a coach at Hearts as well as assistant to O'Neill at Northern Ireland, added: "If Alex Ferguson isn't above the Scotland job - I haven't asked Michael specifically - but I certainly wouldn't say that Michael is."
O'Neill's side missed out on a spot at the 2018 World Cup after a narrow play-off defeat by Switzerland, having reached the round of 16 at the Euro 2016 Championships in France.
Scotland have not been to a major championships since 1998 and their failure to reach Russia 2018 cost Gordon Strachan his job.
Former Brechin City boss O'Neill has two years left on his current contract and is in talks with the Irish FA over an extension, but MacPhee insists he will be top of plenty of wish-lists as clubs and countries look for new managers.
"Right now he is the national team manager who's had the biggest increase in world rankings, globally," MacPhee added.
"So that puts you on every board's stratosphere because he's taken them from 133 to 20 (they are currently 24). No other national team manager has done that.
"He's going to be linked to lots of different jobs.
"I think that now he is in a financial bracket which links you with some jobs and not with others.
"Brechin aren't going to come calling now, because he is now in a financial bracket due to the success he has had."
MacPhee insists he does not know where or even if O'Neill will move, and says Hearts' shock 4-0 win over Celtic on Sunday, which ended the Scottish champions' 69-game unbeaten domestic run, proves the unpredictability of football.
"In football you can only really deal with what's actually happened," he added.
"I really don't know what the future holds for me, and that's the wonderful thing about football.
"Did I get out the car thinking we would beat Celtic 4-0? No I didn't.
"Did I get up in the morning, grab a shirt and pair of jeans in case we did and put them in the car? Yes I did."