Betting: Aberdeen director Duncan Skinner charged with breaking betting rules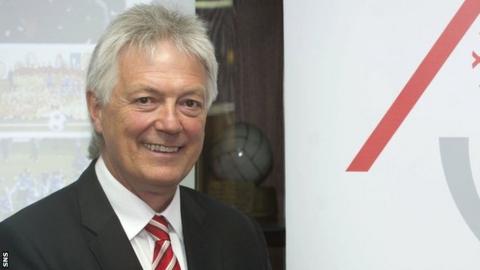 Aberdeen director Duncan Skinner has been charged with breaking Scottish football's rules over gambling - including a bet against his own club.
Skinner is alleged to have placed 589 bets - including one on Aberdeen to lose against Celtic in 2017 - between 2014 and this season.
However, there is no suggestion match-fixing was involved.
The bets covered 1,465 games, 81 involved Aberdeen with 74 placed on the team to win and six to draw.
Skinner, who is also on the board of Sportscotland, has until 3 January 2018 to respond to the alleged breach of Rule 31, which states: "No club, official, team official or other member of team staff, player, match official or other person under the jurisdiction of the Scottish FA shall gamble in any way on a football match."
A hearing date of 11 January has been set.
Skinner has been a non-executive director at Pittodrie since January 2015, having enjoyed a successful career in the oil and gas industry.
It is understood both Skinner and Aberdeen have been co-operative since the matter came to light, with Aberdeen conducting a review of governance at the club.
In a statement, Aberdeen said: "The club is obviously aware of the citation and, along with Duncan, is co-operating fully with the SFA, in addition to conducting its own internal review. As this is a live case, we will not be commenting further at this point."
Earlier this year, the Annan Athletic chairman Henry McClelland was fined £3,000 for placing 4,011 football bets, including 430 involving his own club.