Celtic: Brendan Rodgers targets double-digit Premiership lead by year end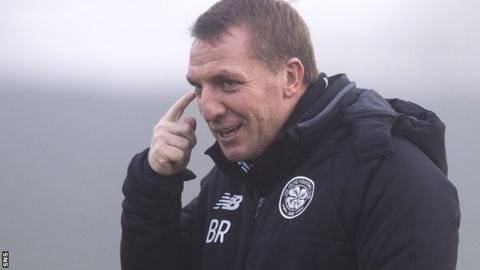 Manager Brendan Rodgers has revealed he set his Celtic players three targets to achieve before the end of the year.
Rodgers wanted to seal Europa League qualification, a successful defence of the League Cup and a double-digit gap between his side and second place.
With the first two secured, Celtic aim to extend their five-point Premiership lead in games against Aberdeen, Dundee and Rangers before the winter break.
"There's three targets really coming towards 30 December," Rodgers said.
"I said to the players a number of weeks ago, if we could win the League Cup, if we could qualify for the Europa League, and if we have double-figure advantage by the time we arrive out of the winter break, then we'd have a brilliant season.
"OK, if we don't get the double figures, as long as we get that gap, then that'll represent an outstanding start by the players.
"That would be a great, great end to the year for us."
Celtic retained the League Cup with a 2-0 final win over Motherwell in November and have a Europa League tie against Russian side Zenit St Petersburg in February after finishing third in their Champions League group.
They recovered from having their 69-match unbeaten domestic run ended by Hearts last Sunday with a 2-0 home win over Partick Thistle on Wednesday.
Now Rodgers, who is hoping to add "one or two" more players to his squad in January, having completed the signing of centre-back Marvin Compper, is aiming to ending the year on a high with strong performances against some of their closest rivals.
Celtic host second-placed Aberdeen on Saturday, and third-placed Rangers the following Saturday, 30 December.
"We know there are a number of teams that will make it difficult up at the top end; we just look forward to playing the game Saturday," he added.
"[We want to] get ourselves through to the winter break knowing that we can re-fresh and really push on powerfully and strongly in the second part of he season."
'I have big admiration for McInnes'
Saturday's opponents Aberdeen have won three successive games - against Dundee, St Johnstone and Hibernian - since manager Derek McInnes turned down the opportunity to manage Premiership rivals Rangers.
"I suppose everyone was expecting him to go because of his allegiances there, having been a player and obviously a club he supported," noted Rodgers.
"But as a manager you also have to have a strategy, it can't be always with the heart.
"You have to think things through and obviously have to speak to people and find out what the strategy is and if everything is aligned within that before you make a decision.
"Football management, as you can see now, is a precarious business and what is important is that you go into a club that has stability.
"I was very, very fortunate to come to Celtic. I have an incredible board here, a real high level of intellect within Celtic and everything is aligned, from strategy to interest.
"I don't know what Derek's situation was, without speaking to him. But he obviously felt at this point in his career that the best chance for him, for that stability and with everything aligned, was to stay at Aberdeen.
"He is a good guy, he clearly wants the team to be better and wants to improve the club.
"I think the job he has done in the four and a bit years he has been there has proven that. I have a big admiration for him."