Man Utd have 'a harder time of it' over Christmas period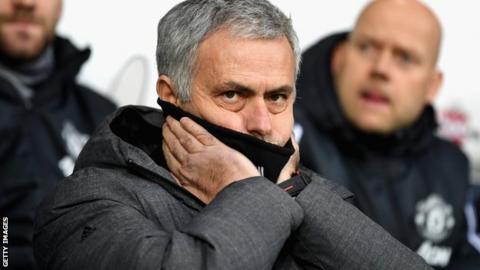 As you know, we at BBC Sport love conducting a bit of analysis and research.
Last week we delved into the Premier League's festive fixtures to see which clubs had the busiest few weeks ahead of them.
Leicester City will play four matches - between 23 December and 1 January - in the space of just 213 hours.
Sounds exhausting - not only for the players and staff - spare a thought for the travelling fans.
However, Manchester United have conducted their "own research" and say they have "a harder time of it" than their nearest rivals as no other team has fewer rest days than them (six).
"Chelsea's matches are nicely spaced out," says the article published on the club's official website.
The critique raises concerns about player fitness and the team's overall mileage during the festive period.
"The journey to [Leicester] will be the longest of United's hectic schedule, with the total mileage coming out at 288, still considerably more than our Boxing Day opponents Burnley, who are at the bottom of the time-on-the-road table with only 160 miles," the article says.
Well, let's just check back on our own number-crunching...
It is correct to say that no club will play more matches between 2 December and 4 January than United. But Arsenal, Chelsea and Manchester City also have 10 fixtures, with City cramming those games into the same 31 days as their local rivals.
Premier League between Dec 2 -Jan 4
Club
Games
Days
Club
Games
Days
Arsenal
10
33
Man City
10
31
Bournemouth
9
30
Man Utd
10
31
Brighton
8
31
Newcastle
8
31
Burnley
8
31
Southampton
8
31
Chelsea
10
33
Stoke
8
31
C Palace
8
32
Swansea
8
32
Everton
9
31
Tottenham
9
34
Huddersfield
8
31
Watford
8
32
Leicester
9
31
West Brom
8
32
Liverpool
9
31
West Ham
9
33
And what about the travelling claim? Well, 15 clubs will have to journey further than United during that time...
The club's stance on the matter has, perhaps unsurprisingly, not gone unnoticed by their rival fans.
One of their own fans seem to be unperturbed by the upcoming matches...
"Expect no let-up in January if we progress in the cup competitions" the piece continues.
"With the Derby County game in the FA Cup third round now scheduled for the Friday after the Toffees test on the Monday.
"It's the price of success, in many respects, but it all means Jose will have to juggle his resources accordingly in order to deal with such an exhausting programme."