Neil Warnock: Cardiff City manager in talks on new contract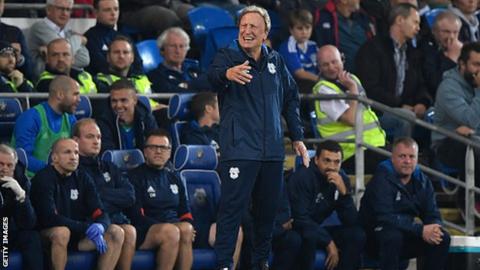 Neil Warnock says he is talking to Cardiff City about a new contract but is in no rush to resolve his future.
However, the 69-year-old manager says he will definitely not retire at the end of the current campaign.
Warnock's current deal expires at the end of this season but with the club chasing promotion, chairman Mehmet Dalman is keen for him to stay.
"I'll definitely be working next year, I've made up my mind I will have another season," said Warnock.
"We have spoken and I'm sure we will be speaking over the next few days and few weeks regarding that, but I'm not in a rush.
"I wouldn't dream of leaving Mehmet and the club part of the way through a season.
"If the time comes and I think it's the right thing for me and the club then I would consider signing another year, likewise if the club aren't in a rush it doesn't bother me staying as I am.
"Either way I'm quite happy but I will be working next year provided that my health is okay."
Warnock - who this year celebrated 50 years in football as a player and manager - took over from Paul Trollope at Cardiff in October 2016 and then signed an extension in February until the end of the 2017/18 campaign.
And whilst he is relaxed about when to sort out his future, he hopes to have things resolved with the chairman in the new year.
"I've always spoken to Mehmet," he added. "We are talking, we just haven't had time really.
"At Christmas I think Mehmet is coming over for an extended stay and he's always speaking to [owner] Vincent Tan and [CEO] Ken Choo, so we'll probably have a chat then.
"But it's so busy at the moment, we're all over the show so I don't think its a priority at the moment.
"We'll probably get round to it in the new year and have a chat."