Rangers chairman Dave King ordered to make £11m share offer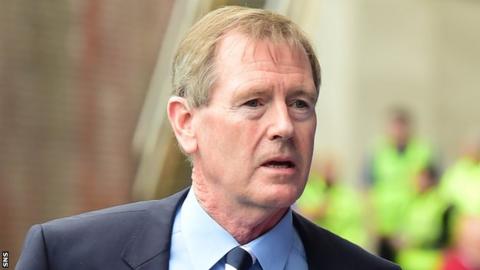 Rangers chairman Dave King has been ordered to make an £11m offer to the club's remaining shareholders.
A Court of Session judge ruled that King needs to offer investors 20p per share for the share capital not already controlled by him and three partners.
The ruling comes as a consequence of an action brought by the Panel on Takeovers and Mergers.
The financial watchdog claimed that King did not comply with the terms of the 2006 Companies Act.
Legislation dictates that entrepreneurs who hold a 30% stake in businesses are compelled to make an offer to investors to buy remaining shares.
It was argued that King acted in concert with businessmen George Letham, George Taylor and Douglas Park to acquire more than 30% of voting rights in Rangers in late 2014.
During the case, lawyers acting for King said the chairman could not afford to buy back shares at 20p per voting right.
King led a boardroom takeover at Ibrox in early 2015 but insisted he did not work "in concert" with Letham, Taylor and Park.
His legal team argued that it was a trust - New Oasis Asset Limited (NOAL)- and not himself, who had acquired 15% of Rangers shares.
In Friday's written judgement, judge Lord Bannatyne said he was convinced King had control over his family trusts and therefore had the money to make the offer.
Advocate James McNeill QC, acting for the Takeover Panel, had earlier outlined evidence of the group working together, including an email from Letham to King, raising the possibility that the purchase of shares from Laxey and Artemis would take them over 30%.
In the email, Letham wrote: "Dave just a reminder that after we buy Lacey today, we will hold 19.7 per cent. We really only want to buy Artemis 10 per cent if it (sic) the intention to stay under 30 per cent otherwise we will have to make a mandatory offer."
McNeill told the court that this showed King was aware that he would have to make an offer for the remaining shares.
He also said financial investigators had established that King was in charge of the NOAL shares during 2015.
Lord Bannatyne added: "As Mr McNeill pointed out, on two occasions the Trusts have been willing to provide money for the purchase of Rangers shares when he wished them to do so.
"Now suddenly when the respondent does not wish to comply with the terms of rule nine, the Trusts no longer are willing to provide any money. This tends, as Mr McNeill, submitted to show actual de facto control over the trusts by the respondent rather than the opposite."
The court heard that, in October, the share price was worth 27p. Shareholders do not have to accept the 20p share offer.
Analysis - Douglas Fraser, BBC Scotland Business Correspondent
"It is a pretty harsh judgement in the sense of this claim [by Dave King] that he didn't have control of the trust fund.
"He now has 30 days in order to make an offer. As far as I am aware, this is uncharted territory, because people tend not to ignore the Takeover Panel watchdog.
"The complication is that the going rate at which the offer has to be made was the going rate three years ago, which is 20p per share.
"The last sales on the trading platform used for Rangers shares were at 27½p. If he makes an offer to buy everything at 20p, it may be that nobody wishes to take up the offer, so he may not have to spend the money.
"But these are volatile prices and it isn't a very liquid asset. He may have to lodge the £11m to show he is good for the offer he is making. All of that will have to come out in the wash over the next 30 days."