Hartlepool United: National League club put up for sale six months after takeover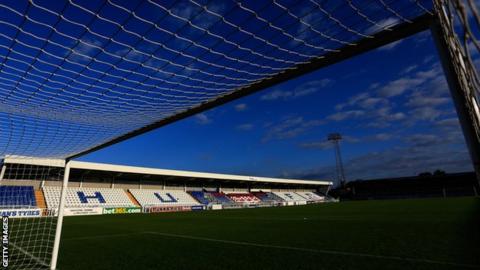 Hartlepool United have been put up for sale just six months after the club was taken over by HUFC Holdings Ltd.
A club statement said "huge financial and human resources" have since been spent on a "number of legacy issues".
Pools were relegated from the Football League last season, having faced three winding-up petitions in JPNG's final season of ownership.
"The club would welcome expressions of interest from investors that are serious," the club statement said.
"The net needs to be widened beyond the town to attract the necessary investment."
What's happened since June?
At the time of sale, chairman Pam Duxbury said she helped stop the club going into administration "several times" leading up to the takeover.
A nominal payment was made when HUFC Holdings, a company owned by Duxbury and Sage Investments, took control of the club in June.
There was talk of a "minimum three-year plan" to rebuild the club, with Duxbury also confirming future plans for the club's ownership to be split between the supporters' trust and a consortium of individuals willing to invest.
The club statement confirmed that several interested parties have come forward, but no firm offers made.
Geoff Cunningham, from Walker Morris Solicitors, has been appointed to deal with "serious and committed" interest.
'It's bleak at this moment in time'
Hartlepool have lost their past four matches in all competitions and are 14th in the National League table after 24 league games.
Ron Harnish, chairman of the Hartlepool United Supporters' Trust, said he made members aware of the club's financial situation, which sees the club lose over £100,000 a month, at the recent annual general meeting.
"At this moment it is very bleak, but we don't know the full story yet," he told BBC Radio Tees.
"We just hope a buyer can be found, otherwise we'll explore the possibility of a trust-owned club.
"They have been looking for buyers for several months. They are looking for someone with a load of cash to carry on the club.
"It is a bit disappointing that the business plan that Pam Duxbury and Sage have put together has not come to fruition.
"They have treated players really well, have kept it at professional level and unfortunately that has not evolved on pitch."