Cody Cooke: Truro City top scorer aims to double goal tally by end of season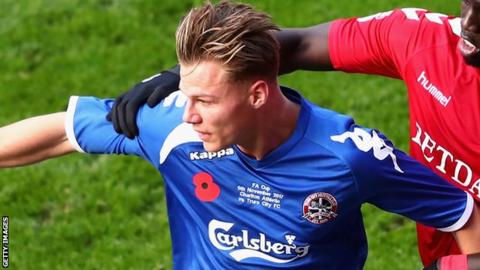 Truro City's top scorer Cody Cooke says he wants to double his current tally by the end of the season.
The 24-year-old has scored 10 times this season to help City into the National League South play-off places.
"I want to finish on 20 by the end of the season, which I'm on target to do," he told BBC Radio Cornwall.
"If I can keep scoring and keep performing then hopefully it will kick us on as a group and we'll get to where we want to be."
The seventh-placed White Tigers, who made the first rounds of the FA Cup and FA Trophy this season, are only three points behind leaders Dartford in a congested summit at the top of the sixth tier.
"We want to get promoted," Cooke added.
"I think we've got the group of players to do it, I know the manger's come out and said he wants to add to the side which can only strengthen us.
"There's no reason why we can't go and get promoted this year, having seen most of the teams and played against most of the teams, there's no-one really runinng away with it at the moment.
"If we wan to get a few results together it's in our hands to move forward and get promoted."