Phil Foden: Manchester City midfielder ruled out with injury by Pep Guardiola
Last updated on .From the section Man City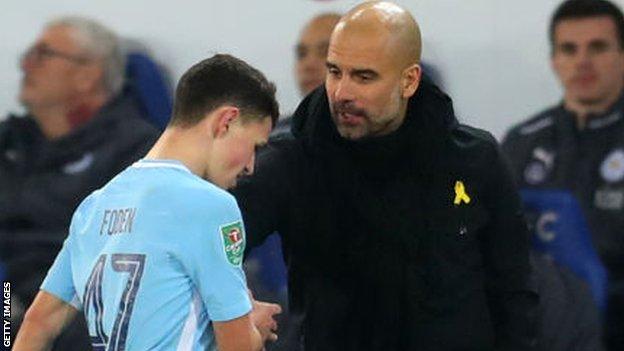 Manchester City midfielder Phil Foden will be out of action for at least a month with an ankle injury manager Pep Guardiola stressed "is not good".
Foden, 17, played 89 minutes of City's EFL Cup win over Leicester on Tuesday - his fourth first-team game this season.
"It's a ligament, he will be out for a time," said Guardiola.
Foden was player of the tournament when England won the Fifa Under-17 World Cup in October and named 2017 BBC Young Sports Personality of the Year.
Premier League leaders City face Bournemouth at Etihad Stadium on Saturday and travel to Newcastle on 27 December.
Guardiola on Catalonia
Guardiola said he will wait to "see what happens" after reports he has been named in a Spanish police investigation into the Catalonia independence crisis.
It has been claimed in Spain that the Catalan-born Manchester City manager is being investigated as one of a number of high-profile figures who may have attempted to sway public opinion ahead of October's illegal referendum.
According to Spanish newspaper El Nacional, Guardiola's name arose as part of a police investigation into rebellion around the now imprisoned activists Jordi Sanchez and Jordi Cuixart.
Guardiola has previously voiced his support for incarcerated Catalan politicians and has worn a yellow ribbon to highlight their plight for the past two months.
The reports come after pro-independence parties polled well in a regional election held in Catalonia on Thursday.
"The most important thing is a lot of people voted, I think more than 81%, so it's really amazing," said Guardiola.
"Now the rest of Spain must try to understand the reality that, yesterday, Catalonia showed clearly what it wants.
"What I want is the people who are still in jail to go out as soon as possible because it's not fair, and the politicians can start to make politics. So, please, start to talk."