Fifa backs reforms to solve Sierra Leone impasse
By Piers Edwards
BBC Sport
Last updated on .From the section African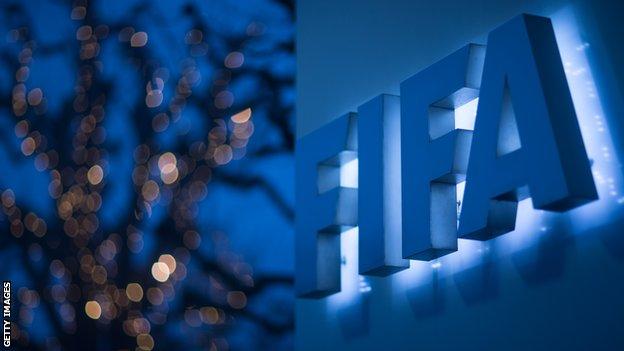 Fifa's Members Association Committee has given beleaguered Sierra Leone FA (SLFA) president Isha Johansen a major boost by ordering a series of reforms she has long championed.
Prominent among these are the decisions to enforce integrity checks on elected officials, create a new code of ethics and find a way to complete and close a long-running World Cup match-fixing inquiry.
Football's governing body has also called for a roadmap to elect an electoral committee as part of a bid to hold delayed SLFA elections.
Fifa made the recommendations after its taskforce visited the Sierra Leonean capital Freetown in late September.
In a letter dated 21 December, Fifa says one reason it decided to act was the confusion caused by the case brought by Sierra Leone's Anti-Corruption Commission (ACC) against Johansen.
In October, members of the SLFA Executive Committee elected to set Johansen and SLFA secretary general Christopher Kamara aside from their positions following the corruption charges - which both deny.
A month later, Fifa overturned the decision - which the SLFA Executive Committee members argued was in line with ACC rules which state that public officials charged with corruption shall be suspended.
"Bearing the aforementioned in mind, the Committee decided to mandate the Fifa administration to implement the recommendations of the task force, which represent the only legitimate way to lead the SLFA out of the current impasse," said the Fifa letter, signed by Deputy Secretary General Zvonimir Boban.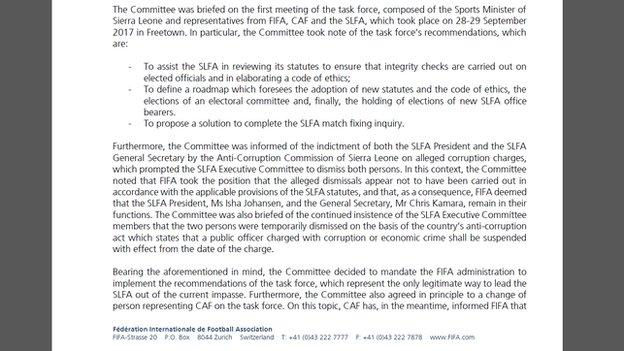 At a meeting on 4 December, the task force had recommended:
•Assisting the SLFA in ensuring that integrity checks are carried out on elected officials
•Elaborating and adopting a code of ethics and new statutes for the SLFA
•Electing an electoral committee with a view to holding fresh SLFA elections (which were originally scheduled for August)
•Finding a solution to complete the SLFA match-fixing inquiry.
The match-fixing inquiry concerns a World Cup qualifier between Sierra Leone and South Africa in 2008.
Since 2014, eleven officials and four players have been suspended by the SLFA pending investigation, with all having denied wrongdoing.
Johansen has previously told the BBC that she believes her decision to back the inquiry has created many of her problems, which include a raid on the SLFA offices, a night in custody when detained by the ACC and the freezing of SLFA assets by the country's High Court.
In a separate development, the chairman of the Fifa task force - Liberian FA chairman Musa Bility - has been replaced by the Senegal Football Federation's president, Augustin Senghor.
No reason has been given for the change.
Because of the crisis and the effects of the Ebola virus, no league football has been played in Sierra Leone - ranked 97th in the world by Fifa - for three years.