Brighton losses increase in season club reach Premier League
Last updated on .From the section Brighton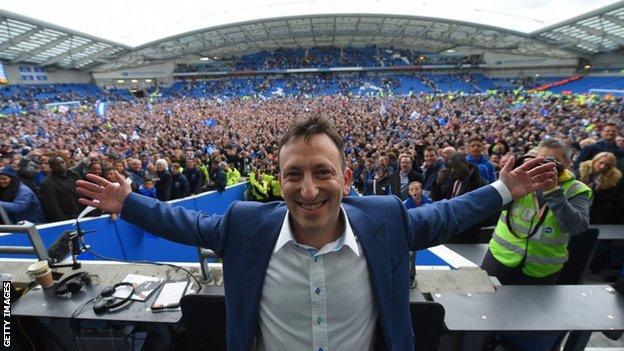 Brighton and Hove Albion's losses increased by £13.1m in the season they were promoted to the Premier League.
Losses rose from £25.8m to £38.9m in 2016-17 - including an additional £7.7m investment in the club's playing squad and "other football costs".
However, chairman Tony Bloom says securing a place in the top flight has boosted the club's turnover by around £100m for the current campaign.
"The finances of the club were changed virtually overnight," said Bloom.
"What is important is that all investments are made sensibly and very much with the club's long-term future at heart.
"As such, we have a clear financial structure that we work very hard to maintain with a view to the short, medium and longer term."
Last season in the Championship, the Seagulls witnessed an increase in turnover of £4.5m and rise in administration and operational costs of £1.3m.
However, the club's overall profit before football costs and depreciation increased by £3.2m to £15.6m.
In a statement, Bloom added: "We made our most significant step in terms of progressing the club during the 2016/17 season.
"There was never a guarantee we would make that final step, but now having made it, we will be doing all we can to stay in the Premier League this season - with a longer term aim of establishing ourselves at the top level."