Swansea City: Chairman Huw Jenkins hits back at fans' criticism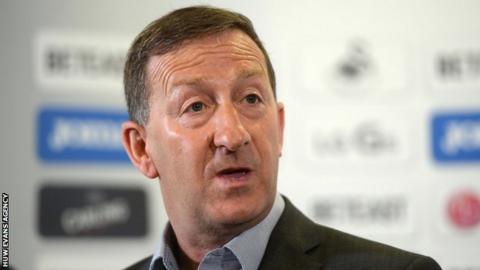 Swansea City chairman Huw Jenkins has hit back at fans calling for his removal from the Premier League club.
The Swansea City Supporters' Alliance say Jenkins' position is "untenable" and want him to leave.
But the chairman of 15 years has defended his running of the club with its American owners.
"When I read some of the social media comments directed mainly at me ... our manager and players, I find it disappointing and sad," he said.
Jenkins was writing in the match programme for the game against Crystal Palace three days after the dismissal of head coach Paul Clement after less than a year in charge.
"One article on social media made me think. 'We want our club back' someone wrote, before another one asked 'what does that mean?'," added Jenkins.
"But more importantly I thought 'what time in our 100-year history do we want to return our club to?'
"That's more to the point and far more worrying in my eyes. Yes, things are not going very well at the moment but we are all determined to get back on track - and I will give everything I can to help us achieve that."
Steve Kaplan and Jason Levein led an American consortium which bought a controlling stake of 68% of Swansea in July 2016.
The takeover was divisive, with the Swansea City Supporters' Trust - which has a 21.1% stake in the club and, uniquely in the Premier League, a representative on the board - initially kept out of the negotiations between the selling shareholders and the prospective new owners.
That discord, coupled with successive seasons spent in a relegation battle, has prompted fury from the Swans' fans, who have accused Jenkins and other selling shareholders of greed and chanted at them to "get out of our club" at games during the last 18 months.
Supporters are also angry about Swansea's poor dealings in the transfer market, with the club failing to adequately replace their two best players, Gylfi Sigurdsson and Fernando Llorente, who were sold earlier this season.
Jenkins has refused to speak about such issues in recent months and declined several interview requests from BBC Sport Wales.
"Since we joined the Premier League back in 2011, we have had to show a transfer fee surplus to pay our way and to increase our players' salary budget just to compete at Premier League level," he wrote.
"We have also proudly built two new training complexes for a total outlay for £30m which, I may add, are the envy of many.
"I can also guarantee one thing, that when I eventually hand over the reins to someone else, we will have a squad of players greater in transfer value than we owe our banks in overdraft borrowings.
"The new majority shareholders are now financially responsible for our overdraft borrowings, which is a massive difference to how we operated our football club pre-share sale.
"We were sailing close to the wind back in January 2016 when we had to sell Jonjo Shelvey to help our cash flow and see us through to the end of the season as we didn't have one shareholder with the financial capability to carry our football club forward.
"The constant threat of relegation must always be considered because it is vital that Swansea City Football Club is still able to operate on a sound financial footing and never return to the dark days when the threat of losing professional football in Swansea was very real one."