Joe Thompson: Rochdale midfielder returns to action after recovering from cancer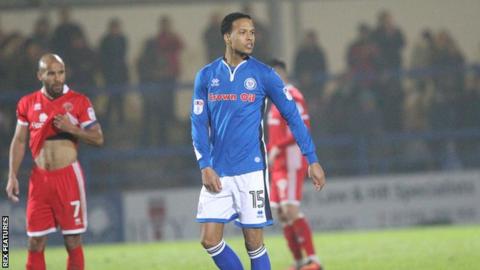 Rochdale midfielder Joe Thompson has returned to football after recovering from cancer for a second time.
He came off the bench for the final 18 minutes of the 1-1 draw with Walsall.
It is the first time the 28-year-old has been involved in a game since Dale's 2-2 draw with MK Dons in March.
Thompson was diagnosed with Hodgkin lymphoma in 2013 and was given the all clear in 2014, and is now in complete remission again after being diagnosed with cancer again earlier this year.
"There's been a lot of work done behind closed doors. I'm delighted to have made it back onto the pitch," he told BBC Radio Manchester.
"Initially it was a bit stop-start. For about six weeks I was still feeling the side effects of the chemotherapy and treatment. I slowly got back in with the physio and then it was a case of 'let's see if you can do a walk' and then a bike and from there it was 'let's see if you can run'.
"Then it was football-specific movements because I was a bit stiff to say the least. Then I built up the muscles to the point that I could participate in training and now it's about trying to get the match sharpness.
"I wouldn't want any sympathy. The banter was flying and as I got into training, no one is holding back on tackles I can tell you that."