St Johnstone 0-0 Hearts: Cochrane dismissal "very harsh" - Levein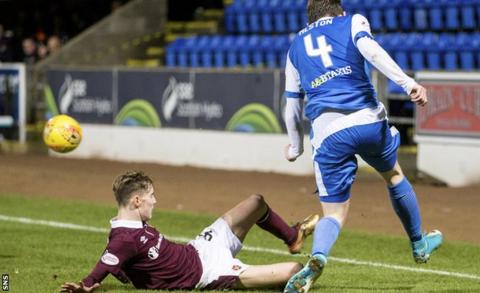 Hearts manager Craig Levein says Harry Cochrane's dismissal against St Johnstone was "very, very harsh".
The 16-year-old midfielder was sent off following a tackle on Blair Alston, but Levein did not think referee Kevin Clancy had a clear view of the incident during the sides' 0-0 draw.
"Blair Alston said that he [Cochrane] didn't touch him," Levein said.
"He wasn't trying to tackle him, he was trying to block him and there is a difference."
Cochrane was shown a red card with 12 minutes left, just at a stage when Levein felt the youngster's passing was having an influence on the game.
The midfielder looked anguished as he trudged off, and Levein said he would talk to the youngster, who scored the opening goal in last weekend's victory over Celtic.
"He was distraught," Levein said. "And the annoying thing for me was we didn't pass the ball well in the first half. It was like a game of ping pong, but we were much better in the second half. Harry got involved a little bit more and I felt we were in control.
"[Alston] hurdled him and also he is in the line of the ball trying to block it rather than try to tackle him. I might get a chance to get a better look at it and speak to Harry about the situation.
"I am not 100% sure that Kevin [Clancy] actually saw it. He just heard the squeal and made his decision from that.
"I felt that the second half we were in complete control and I was hopeful we would score and win the game. Even after Harry got sent off I thought we could sneak it."