Somalia aim to play at home after 30 years
Last updated on .From the section African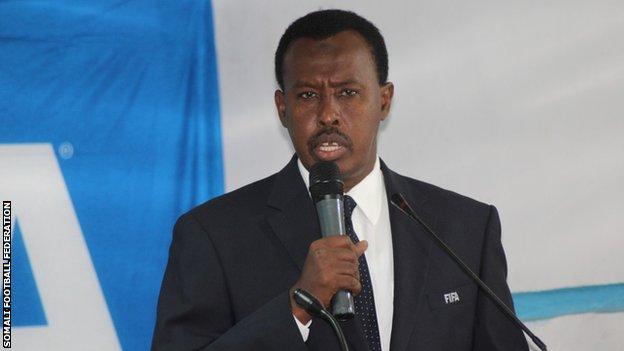 The president of Somali Football Federation (SFF), Abdqiani Said Arab, has said that Somalia is planning to once again play international matches on home soil in 2018.
Due to the insecurity in the country, according to the SFF the country has not hosted any kind of international match since 1988, while the under-23 side hosted Mauritius in an Olympic qualifiers two years later.
Their last competitive match at home for the senior team was in 1986 against Uganda in the second leg of a 1988 Africa Cup of Nations qualifier.
That tie ended goalless in Mogadishu after Uganda had won the first leg 5-0.
"The situation in the country is changing and we are moving from the long-standing lawlessness to peace and stability," Arab said.
"Due to the betterment of the security situation in Somalia we have decided to stage our home games at home.
"Somali people have the right to watch their national team play at home and we have to make that happen now that the country is going ahead.
"2018 will be a year of a big change for Somalia as we plan to invite national teams from some east African countries for friendly matches."
Arab is already looking beyond hosting friendly matches.
"The staging of friendly matches at home will pave the way for the organization of Cecafa tournaments in Somalia. This will re-write an age-old history," the president said
Arab also thanked the president the Somalia, Mohamed Abdullahi Mohamed, and the government for their commitment to the promotion of football in the country.
Since 1986 Somalia has been forced to play its competitive games either on neutral territory or in their opponent's country.