Neil Warnock reveals Cardiff City signing plans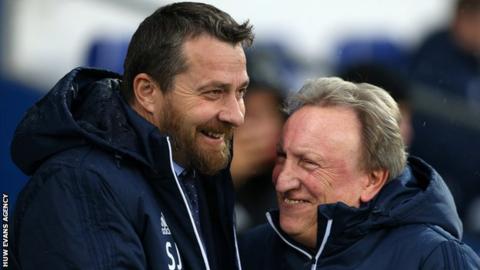 Cardiff City manager Neil Warnock says he wants to make at least one permanent signing and a further "one or two" on loan in the January transfer window.
The Bluebirds slipped to third place in the Championship table after losing 4-2 at home to Fulham on Boxing Day.
Owner Vincent Tan has said money will be available in January, but Warnock does not expect to spend excessively.
"There's probably only one player who I would bid to buy. The rest are all loan players," Warnock said.
"I've already told him [Tan] I don't want silly money. There aren't many I want to buy.
"Most of the lads I'd like to loan for a few months, hopefully without a guaranteed buy-out if we won promotion.
"It's difficult to buy players in January. There are four or five loan players. If we can get one or two of them, I'd be delighted.
"One [signing from the Premier League] probably. The others are our level.
"We're just looking to supplement what we've got with players who I think can do it at this level. There's not a lot wrong."
Cardiff's defeat by Fulham was their first at home in the Championship this season, leaving them eight points behind leaders Wolves.
Warnock was "disappointed" to have their unbeaten record broken but, with some signings in January, the 69-year-old is hopeful of winning his eighth promotion as a club manager.
"Our aim at the start of the season was to get into the play-offs, but we've lifted ourselves a little higher now," he added.
"With a little bit of help from upstairs, I there's no reason why we can't give it [automatic promotion] a good shout in the second half [of the season]."