World Cup 2018: Vitaly Mutko leaves role as chief organiser
Last updated on .From the section Football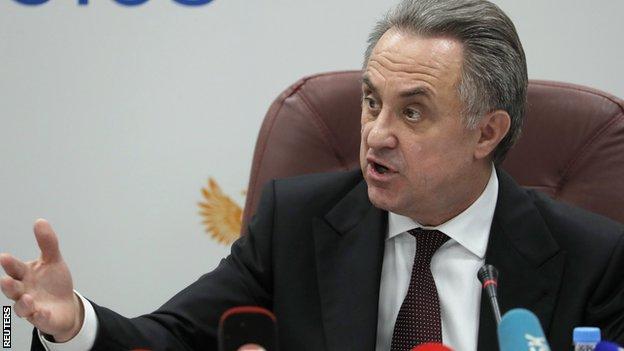 Vitaly Mutko has stepped down from his role as chief organiser for next summer's World Cup in Russia, two days after he temporarily left his post as Russian Football Union (RFU) president.
Russia's deputy prime minister was banned from the Olympics for life having been accused of running a huge "state-directed" doping programme.
Mutko stood down from his RFU position on Monday while he contests the ban.
And he has now left his World Cup role to "concentrate on government work".
Mutko said Alexei Sorokin will instead chair the World Cup 2018 organising committee.
"There is still a lot of work, but I am absolutely sure that everything will be ready on time," he told R Sports.
The organising committee spoke of its "great regret" at Mutko's decision, but added it would not affect its plans for the tournament, which starts on 14 June.
Football's world governing body Fifa said it had "taken note of the decision" and thanked Mutko for his work so far.
Whistleblower Vitaly Stepanov, a former Russian anti-doping agency worker, told the International Olympic Committee (IOC) that Mutko, a former sports minister, "created and ran" the country's "state-directed" doping programme.
He has always denied being part of a doping programme, but Russia was banned from competing in the 2018 Winter Olympics.
Last month, Mutko told BBC sports editor Dan Roan it was a "huge disappointment" there was so much focus on doping issues in the build-up to World Cup 2018.