Rangers have their own game plan for Celtic test, says Wes Foderingham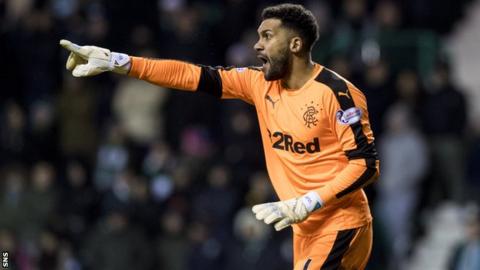 Goalkeeper Wes Foderingham says Rangers will not try and replicate Hearts' approach in Saturday's Premiership meeting with leaders Celtic.
Hearts won 4-0 to inflict Celtic's first domestic defeat in 19 months.
"Hearts played well in that game recently and got a good result," said Foderingham, 26.
"But it's not for Rangers to look at a Hearts performance against Celtic to think about what we need to do to win a game of football."
And he added: "We know what we need to do and our game plan will be different."
Since that loss at Tynecastle on 17 December, Celtic have won three matches in a row while Rangers recovered from two straight defeats with a midweek victory against Motherwell.
"Coming off the back of two defeats, it was important that we got a win against Motherwell on Wednesday night and we managed to do that so we'll take that into Saturday," said Foderingham.
"Our form has been patchy with two disappointing losses against St Johnstone and Kilmarnock but obviously we've had some good results against Aberdeen and Hibs as well.
"But coming off the back of a win, we will go into Saturday with confidence."
Foderingham was part of a Rangers side that beat Celtic on penalties in the 2016 Scottish Cup semi-final but since then has been on the losing side in six of seven Old Firm derbies, the other being a draw.
"It's important that we're motivated anyway, regardless of previous results," he added. "We've had some decent performances and probably not got what we have deserved.
"Anything can happen in an Old Firm game so what we need to do is go in there and give ourselves the best chance.
"Every side is beatable. We go into any fixture looking to win and these Old Firm games are special so we need to make sure that we go and give a good account of ourselves.
"You can't dread an Old Firm game. You don't come here and dread those kinds of fixtures. I look forward to them."