Neil Warnock 'greedy' as Cardiff City exceed expectations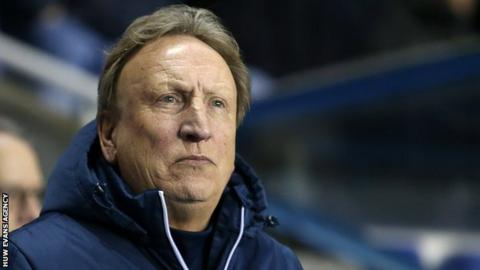 Cardiff City boss Neil Warnock says he is "getting greedy" because his players having exceeded his expectations in the Championship.
They go into New Year's Day's game at Queens Park Rangers fourth in the table having dropped from second after losing their last three games.
Warnock, however, is more than pleased with where they are at the end of 2017.
"Back in August I'd have taken being four points off the play-offs or something like that," said Warnock.
"Around about eighth or 10th is where I thought we'd be, but now I'm getting greedy.
"I think if I do my job right I can get us a lot higher than that."
The Bluebirds lost 1-0 at home against Preston North End on Friday as they were beaten for a third successive match for the first time under Warnock's management.
However, they remain just a point behind second-placed Derby County and are level with third-placed Bristol City on 47 points.
"We've got to give them [the players] a lift now," said Warnock.
"They've given me everything and I think I've got to lead them now."
The Cardiff boss has outlined his strategy for signing fresh faces in the January transfer window and will now seek backing from the club's owners to help deal with the injury issues.
Warnock said: "It's a very cruel game at times and when I see the lads who are missing — and we can't sign five lads in January — we've just got to get one or two back fit and regroup.
"They've hit a brick wall some of them. You can't fault them, they've given me everything. We've lost player after player.
"I'm going to have a meeting with the board and recommend two or three players and I hope they support me in that respect."