James McFadden targets deal abroad after leaving Queen of the South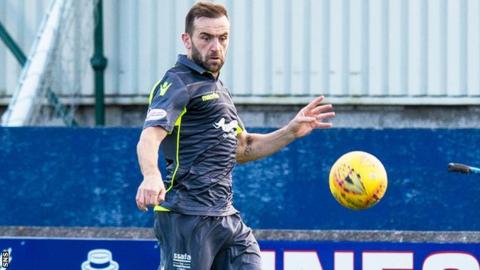 Former Scotland forward James McFadden says he would love to play abroad after leaving Queen of the South.
The 34-year-old, who turned down the chance to move to France in 2008, has no plans to quit the game just yet.
"I've made no secret of the fact I'd love to play abroad," McFadden told BBC Scotland's Sportsound.
"I had a couple of opportunities when I was younger, but it wasn't the right time for me, but it's something I wish I had done and I'd be up for it now."
McFadden started his career at Motherwell and earned a move to the English top flight with Everton in 2003, enjoying five years at Goodison Park.
It was during his time there that McFadden scored a long-range wonder-goal to give Scotland a 1-0 win over France in Paris in a European Championships qualifier.
"I had a chance to go to France when I was younger, just before I was leaving Everton for Birmingham," McFadden added.
"My second child was on the way, so it wasn't great timing. I wish I could've done it.
"I've had a great career and a great life, so I'm not complaining, but you need to think about these things before you do things like that."
Following a third stint at Motherwell from 2015-2017, during which he had a spell as assistant manager, McFadden joined Queen of the South on a short-term contract in September.
He made 15 appearances this season and says he has put in too much work to consider quitting the game at this stage.
"I'm open to offers," he said. "I've enjoyed it. I got fit and lost a good bit of weight in body fat and I never missed a day's training.
"I was getting as fit as I've been in the last few years. I think I have something to offer.
"I played nine, 10, 11 games in a row and was starting to have a real influence.
"It was difficult at the start because I hadn't played for a while, but I was starting to really feel strong and fit. It's something I want to continue doing."
McFadden is not ready to give up playing in favour of coaching.
"I did it last year and I did enjoy it, but I missed the training," he added.
"I know, when I retire, it will be because I'm ready, but I'm not ready yet.
"We'll see what comes up over the next week or two and I'll make a decision as soon as I can."