Stoke City: Where did it all go wrong for sacked Mark Hughes?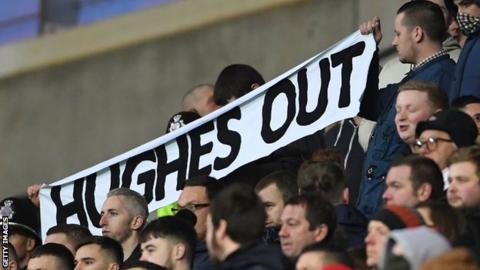 Mark Hughes offered up temptation that fate was unable to resist when recently asked about his position as Stoke City manager, replying: "Who else is going to do it?"
The answer will be known soon enough after Hughes was sacked following the humiliating FA Cup third-round exit at League Two Coventry City.
Stoke's ownership, led by the Coates family, are known for their patience and calm-headed approach to matters such as managerial affairs, but the loss at the Ricoh Arena came with inevitable consequences.
So what went wrong for Hughes at Stoke?
Strengths turned into weakness
In the Tony Pulis-era that preceded Hughes' appointment in May 2013, and first three seasons under the 54-year-old, Stoke were notoriously tough opponents at their hostile and atmospheric stadium situated just off the M6.
But this season has followed the disturbing pattern that emerged last term, with Stoke's core strength of solidity - base camp for the years of progress and consolidation under Pulis - becoming a flaw.
Stoke's defensive strength has been reduced to rubble under Hughes, with no sign of improvement.
Stoke have conceded 47 goals in 22 league games this term - and history tells us that is the sort of record that invariably ends in relegation. They have the division's worst goal difference at -24.
Only two sides with such a poor defensive record at this stage of a Premier League season have ever escaped the drop: Swansea, who had conceded 51 goals at the same stage last season, and Wigan (47) in 2010.
Stoke's haul of 14 points from 11 home league games this season is also their worst at this stage since they came back to the top flight.
The highest total after 11 games was the 20 collected under Pulis in his final season in 2012/13.
So while the FA Cup loss may have convinced Stoke to sack Hughes, the real concerns lay in that drop to 18th in the Premier League with five wins and 12 losses from those 22 games.
It thus became an inevitable end for Hughes.
Flawed transfer policy
When Hughes was appointed to succeed Pulis he did so amid talk of a new, easier-on-the-eye style - taking the club to "the next level" became a buzz phrase.
This was damning Pulis with faint praise. He had done an excellent job in not only getting Stoke into the Premier League but then stabilising them, but Hughes was determined to bring an exotic touch to the side.
But Hughes' hit rate in the transfer market had become increasingly suspect and was another big factor in his departure. He made 33 permanent signings - many of them ambitious but only a few of them unqualified successes.
Bojan Krcic arrived from Barcelona in July 2014 but flourished only fleetingly, although in Hughes and the player's defence he suffered a huge blow when he damaged his anterior cruciate ligament two years ago.
Hughes' record outlay of £18.3m on midfielder Gianelli Imbula from Porto in February 2016 was a dismal failure as the player never looked fit for Premier League purpose. He is now on loan and a write-off financially for the club.
"Sometimes things just don't pan out as you hope," said Hughes, with more than a little understatement, when addressing the subject of Imbula.
Xherdan Shaqiri was an unquestioned marquee signing when he joined from Inter Milan for £12m in August 2015. He has produced moments of genuine brilliance but not with the consistency required to lift the increasing gloom.
Former Real Madrid forward Jese arrived on loan from Paris St-Germain in August, but after marking his debut with the winner in the 1-0 victory over Arsenal, he has proved to be another blip on Hughes' transfer record.
Jese was disciplined for leaving the bench early after Hughes made his second and third substitutions in the home win over Swansea in December and his Stoke career already seems over amid talk of a move to Las Palmas.
And this summer's big outlay, the £18m paid to Tottenham for Kevin Wimmer, has been another failure, the centre-back unable to provide the quality required to stop Stoke's defence shipping goals.
Berahino gamble fails
While it is unfair to lay the blame for Hughes' woes at the feet of one player, the debacle that has been Saido Berahino's Stoke career will be regarded as emblematic of the manager's final months in charge.
Hughes paid £12m to sign the outcast striker from West Brom in the hope of reviving a career that was once so promising the likes of Tottenham and Liverpool were linked with him.
Yet since joining Stoke in January 2017 Berahino's career has simply flatlined.
He has played 23 Premier League games with 11 starts in that time, a total of 1,106 minutes, and does not have a goal to his name in any competition. In the Premier League he has only one assist.
Berahino started in the FA Cup loss at Coventry but made no impact.
Hughes' gamble on Berahino's early potential had backfired. It was another failure.
Hughes still deserves credit
Despite its sorry end, Hughes should not have his four-year reign dismissed as a complete failure.
In his first three seasons he did exactly what was demanded of him when he gave Stoke successive ninth-placed Premier League finishes, and served up excitement with the maverick talents of Shaqiri and Marko Arnautovic, whose £24m move to West Ham this summer robbed them of unpredictability and goals.
He also almost took Stoke to a major final, only to lose on penalties to Liverpool in the League Cup semis in 2016.
But the tide turned when Stoke's form dipped en route to a 13th-placed finish last season, and further problems this term left Hughes on the precipice before Saturday's defeat.
In recent times he has leaned heavily, perhaps too heavily, on perceived injustices with match officials, and flew in the face of obvious evidence when he suggested he had the experience and personnel to turn Stoke's fortunes around.
It was not complacency, but Hughes' confidence that Stoke would turn the corner was not backed up by results or performances.
In the final reckoning, he was never fully able to complete what was meant to be a change in identity for Stoke and got caught in between two targets.
Stoke never quite looked like a Hughes team and never quite escaped the impression they were still largely a Pulis team.
Hughes will never get the chance to complete that transformation - but he still deserves credit for his first three years at the club.
What now for Mark Hughes?
Hughes is now left looking for his next staging post in a managerial career that has also taken in Wales, Blackburn Rovers, Manchester City, Fulham and Queen's Park Rangers.
There have been peaks and troughs in that career, but it is unlikely a man whose quiet exterior masks a fierce passion and determination to succeed is ready to walk away from management at a relatively young age.
Hughes may, though, need to drop down a division to rebuild and rehabilitate. It is unlikely he will be offered a swift return to the Premier League.
And what about Wales? There is a vacancy after Chris Coleman resigned to take over at Sunderland. Might there be some mutual admiration between Hughes and the FAW?
Hughes proved he had the profile and personality for that level during his time as the national team manager, starting in 1999 and only losing out on a place at Euro 2004 after a play-off defeat to Russia.
Where next for Stoke City?
Stoke's statement announcing the departure of Hughes contained no reference to a caretaker, suggesting confidence that a new man will be in place by the time they visit Manchester United on 15 January.
And it is also naive to suggest Stoke's decision-makers would not have at least been weighing up potential options as Hughes struggled in recent weeks.
Two candidates have been heavily touted in Derby County's Gary Rowett and Republic of Ireland manager Martin O'Neill.
Would 43-year-old Rowett, with Birmingham City still paying the price for their bizarre decision to remove him from his job, consider a move to Stoke having guided Derby into second place in the Championship? Would he swap a promotion push for a relegation fight with all its risks?
O'Neill, at 65, still has hunger for the game and perhaps the hurt he felt at the Republic's narrow World Cup qualification failure may persuade him to have another crack at the Premier League.
Two of this season's early Premier League casualties, ex-Everton boss Ronald Koeman and former West Ham manager Slaven Bilic, have also been mentioned while Fulham's Slavisa Jokanovic is an outsider.
Whoever emerges from the pack, phase one of their new job will to be make Stoke the imposing environment it used to be for opponents, shore up that defence, and ensure Premier League safety.