Nottingham Forest's Eric Lichaj was one goal away from getting a dog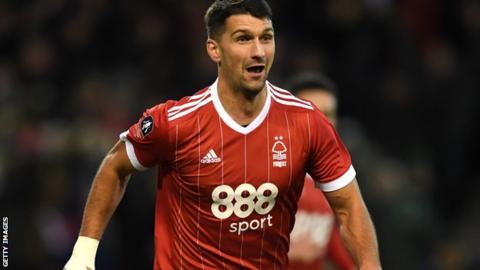 You have got to feel for Nottingham Forest's Eric Lichaj, having just missed out on making his dream a reality.
Having scored twice in the 4-2 win over Premier League side Arsenal in Sunday's FA Cup tie, the American was one goal away from his wife Kathryn agreeing to adding to their family.
"My wife told me that if I score a hat-trick this year I can get a dog" Lichaj revealed after the game.
What's more, he was agonizingly close to the all-important third goal but was denied when his team-mate Kieran Dowell stepped up to take a penalty in the 85th minute.
"I was trying to get the penalty but Vaughany (David Vaughan) told me politely to go away," he added.
As dog lovers here at BBC Sport, we are now (respectfully) directly addressing Kathryn Lichaj...
Kathryn, watch this again and then make your decision...
Hope this helps, Eric. We've got your back...