Mike Dean made mistake with penalty against Arsenal for West Brom - Mike Riley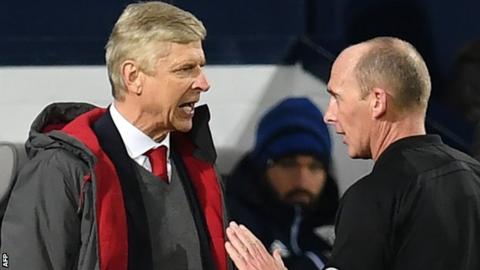 Referee Mike Dean said his decision to award West Brom an 89th-minute penalty in their 1-1 draw with Arsenal on 31 December was "wrong", according to referees' chief Mike Riley.
Dean gave the penalty for handball against Arsenal's Calum Chambers, with the Baggies equalising from the spot.
Riley says it would have been overturned by Video Assistant Referee (VAR) technology.
Arsenal boss Arsene Wenger was later given a touchline ban for his protests.
The Football Association said Wenger admitted "his language and behaviour was abusive, improper and questioned the integrity" of Dean. The Frenchman was also fined £40,000.
Kieran Gibbs' cross hit the wrist of Chambers at close range while the defender's arm was in front of his chest.
"You award the penalty because what you have seen on the pitch is the arm coming towards the ball," Riley said, quoted by the Daily Express.
"But immediately there is evidence from another camera angle which shows actually the opposite happened. That is the safety net of the VAR.
"I think Chambers would have been overturned. The question you ask is, is it an act of deliberate handball? And the reverse angle shows him trying to bring his arm out of the way of the ball, rather than the reverse."
Monday's FA Cup third-round tie between Brighton and Crystal Palace will see VAR used for the first time in a competitive club match in England.
It will also be used in the Carabao Cup final next month and both legs of the Chelsea v Arsenal semi-final.
West Brom (away) - 31 December
The contentious moment: Kieran Gibbs' attempted cross hits the lower arm of Calum Chambers at close range. The defender's arm is in front of his chest. Arsenal draw 1-1.
Wenger to BBC Sport: "Many years ago [former Arsenal vice-chairman] David Dein and myself fought very hard for referees to become professional. But I've said many times now that they don't work enough. [Referee Mike Dean] didn't see it. There was a player in front of him. That's why I questioned his decision, he didn't see it."
Leon Osman on MOTD: "It's a very generous one. I'd have been very annoyed if it was given against us. But Mike Dean has a great view and has decided that Chambers has moved his arm, so I can understand why he's given it. If it doesn't hit his arm, it hits his body."