Naby Keita: Liverpool will not get player in January, say RB Leipzig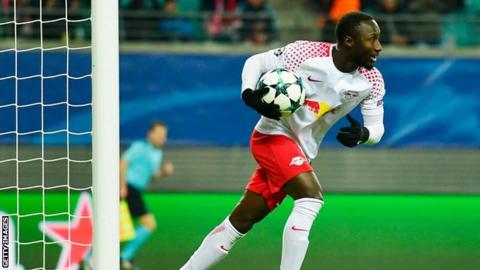 RB Leipzig have told BBC Sport they have no intention of allowing Liverpool to complete the signing of midfielder Naby Keita before the summer.
Last August, the Reds agreed to pay £51m for the 22-year-old Guinea international, who will join in July.
Reports this week claimed he could join Liverpool in January for an extra £18m.
"The situation is the same as it was all season - there's no reason for us to let Naby Keita go early," Leipzig coach Ralph Hasenhuttl told the BBC.
The club added: "Nothing has changed and our position hasn't changed from before regarding this transfer."
Liverpool formed an amicable relationship with RB Leipzig during talks over Keita last summer and will not make any move to close an early deal unless they are given encouragement by the Bundesliga, which has not yet been forthcoming.
The Anfield club have, however, always been happy to complete the deal as quickly as possible and the position could change if RB Leipzig alter their stance this month and fresh terms can be agreed.
RB Leipzig currently lie fifth in the Bundesliga, which resumes this weekend after the winter break, and want to keep Keita for a renewed push to qualify for the Champions League, as well as for their Europa League campaign, where they face Napoli in the last 32.