Quique Sanchez Flores: Stoke want Espanyol's ex-Watford boss to replace Hughes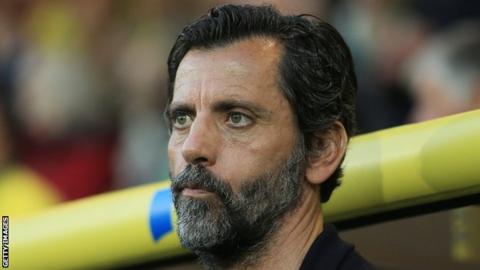 Stoke City have made Quique Sanchez Flores their preferred choice for the manager's job - and are waiting for an answer from the Espanyol boss.
The Potters sacked Mark Hughes on Saturday, with the club in the Premier League relegation zone.
A Stoke delegation has met ex-Watford boss Flores, whose side beat Levante 2-0 in the Copa del Rey on Thursday.
"I'm not going to talk about me on such an important day for Espanyol," he said after his side reached the last eight.
"I don't want to talk about me but to enjoy these moments. I want to continue being happy with my profession.
"I'm very grateful to Espanyol. I've been frustrated sometimes because we haven't advanced as fast as desired, but that's because Espanyol haven't been able to, not because they haven't wanted to.
"Right now we're not thinking about anything other than today's game and Sunday's match against Athletic [Bilbao]."
The 52-year-old is under contract with the La Liga side until 2019, but has a release clause in his deal.
Republic of Ireland manager Martin O'Neill is still in the running if Flores turns down the chance.
Derby County boss Gary Rowett was originally one of the bookmakers' favourites to succeed Hughes, but he signed a new three-and-a-half-year deal with the Championship club on Tuesday.
Stoke had hoped to have their new manager in place for the Premier League game against Manchester United on 15 January - but it is thought Flores might not arrive by then.