Kris Boyd: Kilmarnock striker 'considered quitting' but 'knew I wasn't finished'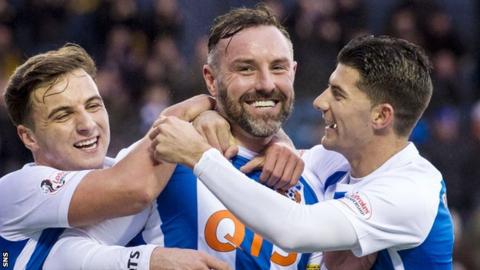 When Kris Boyd says he considered quitting football earlier this season, it throws into sharp relief how important the mental side of the game is.
The Kilmarnock striker made the admission at the launch of the Kris Boyd Charity - aimed at helping people with mental health issues, and inspired by the tragic death of his brother Scott, who took his own life in 2016.
This new direction brings a different dimension to a player better known for goals and, latterly, the occasional moment of bombastic punditry.
With six goals in his last five games Kris Boyd has found his form as a striker once more, under the inspired guidance of Steve Clarke.
Before Clarke arrived on the scene Kilmarnock were a sinking ship with Boyd a player all at sea - the perennial goal-scorer with just one paltry goal in six Premiership matches, having turned 34 a couple of months previously.
Inevitably the doubts came creeping in.
"Was I struggling for form? Yes, I was. Was I written off again? Yes, I was. But I think in the last three or four months since the manager has come in I have felt like a brand new player. I've got myself back on the score-sheet, scoring goals and enjoying my football again.
"I will admit there were plenty of times in there before the manager came in when I thought 'enough was enough'. But, as I said, it was time to get my head down and work hard because I knew that I wasn't finished.
"There were a lot of feelings going through my head that I felt I was finished myself. I knew some of the performances were not up to standard. But the big thing was I knew if I got my head down, worked hard and got back in the team it would turn. That's been the case."
Boyd's career has had its fair share of ups and downs. There have been plenty of good times - Kilmarnock, Rangers - but disappointments as well - Middlesbrough, Eskişehirspor in Turkey - and a second spell at Rangers that failed to inspire.
But amidst the slings and arrows of outrageous football fortune, Boyd has managed to - more or less - keep on an even keel.
"I fully understand who I am as a person. I fully understand what I can bring and what I don't bring to dressing rooms up and down the countries that I have been in. Yes, there have probably been periods when I have felt low but I have always been somebody who gets his head down and gets on with it because I know that just around the corner the good days will come back.
"There were some bad days in there when I thought, yes, I might be finished. But if you keep working and you understand who you are, you can come back from anything."
September 2016 brought the bleakest of moments when his younger brother Scott took his own life at the age of 27.
With the Kris Boyd Charity, the former Scotland striker hopes others in a similar situation can get the help they need, as well as help people spot signs that loved ones might be struggling.
"For people who might be around people who might have those thoughts - if the charity can educate them to understand what people are going through, I think we can help to bring the rate of suicide down.
"As a charity we want to help people understand who they are and what their values are in life. Yes, you're going to have some bad days and you're going to have some good days but when the bad days are there, you can still understand who you are as a person and if you can do that, you have got an opportunity to keep going."
The winter break has allowed Boyd the chance to focus on charity work, but soon the football will return. Kilmarnock are flying high in sixth place in the Premiership and Boyd has looked rejuvenated with 12 goals so far this season, spearheading the Clarke revolution at Rugby Park.
Boyd has nothing but praise for his manager's methods.
"Since he has come in, this place has been totally transformed. It's not a criticism of the managers who have been in before but you only need to look at Steve Clarke's CV.
"Everybody goes on about the magic wand [but] I've said it before - and if you speak to the gaffer he will say it himself - he's been back to basics.
"He's kept everything simple and for us as footballers it's about understanding our role. If you are crystal clear about what you are doing on a football pitch, it's easier to make decisions.
"You only have to look at Kilmarnock over the last couple of months on how well we have been drilled, organised and hard to break down. But I think going forward, because we have that base to defend on, that security, with the pace we have got in the forward areas - excluding myself, obviously - we can exploit and hurt teams."