Chris Coleman has 'no regrets' over leaving Wales job to manage Sunderland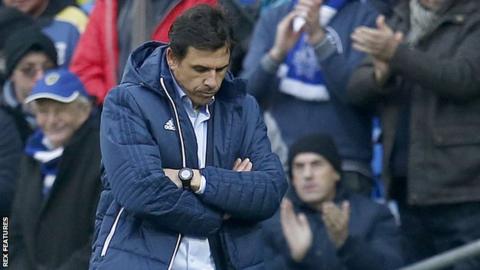 Chris Coleman is adamant he made the right decision not to renew his Wales contract and instead take over as Sunderland manager.
The Black Cats are bottom of the Championship, where they were when the 47-year-old took over in November 2017.
Saturday's 4-0 thrashing at Cardiff City was the first time Coleman has returned to Cardiff City Stadium, the scene of so much success with Wales.
"No regrets. I'm at an absolutely fabulous football club," Coleman said.
"Yes it's hard now, tough and sometimes it feels like no matter what direction we walk in we're going to come up against a brick wall.
"But I've been there before and you've just got to find answers and solutions.
"It was a bitter experience and you feel a little bit helpless, a bit soul-destroying.
"Forty-five seconds after we kick off for the second half we're one-nil down... you can never accept that, and quickly after that we had a man sent off and the game was done."
The next Wales manager?
Coleman's successor has yet to be named, but former Wales internationals Ryan Giggs and Craig Bellamy plus ex-Stoke assistant boss Mark Bowen have been interviewed for the post, while technical director Osian Roberts is also thought to have met with the Football Association of Wales.
"I shared a dressing room with Ryan and he is a great fellow, a top fellow - I think the players would play for him," Coleman added.
"Maybe if Mark Bowen gets it he should do well, as I remember when I was the manager and he was talking on tv he had all the answers after the game, so let's just see!
"It's hard to call whoever gets it, but being a Welshman myself they will have my support whoever gets it. But I couldn't tell you who is going to get it as I don't know.
"With my six years in that job I know my way around the international track, but if anybody wants to talk to me about my experience they can 100%."